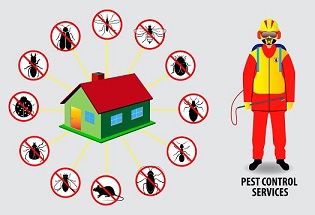 Pest control has been around for many years, and, over time, there have been more and more options for safer pest control solutions for homes and businesses. If you have been hesitant in the past about having a pest control company come into your home and use harsh chemicals that can then be potentially ingested by your pets or your children, then it may be time to take another look. Eco Tech offers all natural, organic pest control solutions that are safe for your children, your pets and for our environment. We offer these options to our clients to make you feel comfortable and because we have a commitment to this planet.
Organic Extermination Services in Minnesota
Our natural pest control services are safe, effective and are affordable. They target the insects that we are trying to get rid of and leave all other animals (and humans) unharmed. These treatments work on ants, roaches, bees, wasps, beetles, lice, fleas, spiders and more. If you discover what you think might be a pest problem in your home or business, reach out to us and we can inspect the area, locate the pests and develop a treatment plan that you are comfortable with. We will answer all of your questions, provide you with a detailed quote (with no hidden fees) and give you a timeline for service. We will provide you with a customized program specifically tailored to your needs. We also never require annual contracts so you will not pay for services that you do not need.
Eco Tech serves the entire Twin Cities Metro area and has more than a decade of experience in the pest control business. We have lots of experience with the pests that tend to cause problems in this area, so they are no match for us. Pests can do damage to your property and multiply very quickly, so it is important to take care of a pest problem as soon as you are aware of it. In fact, for every insect that you see inside your home, there are very likely many more that you have not seen.
Twin Cities Metro Pest Control
If you have been considering hiring a pest control service but were concerned about the chemicals used, give us a call at (763) 785-1414 • (612) 237-8282 • (952) 881-6662 • (651) 260-7378. We will give you information about our all natural pest control options.