Lice Extermination MN
You hear about a case of lice being spread, and before you know it your house is infected. Whether at school, work, sports, locker rooms, it does not matter where, lice can be spread. Lice are only spread by person-to-person contact, so if you have it, you got it from someone else.
Using over the counter medications, shampoos, and body washes can help treat the lice on your head or body. Cleaning clothes, bedding, hats, carpets, couches, pillows, toys, and curtains can also help of ridding the lice.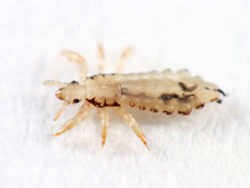 After you have completed these steps, or if you are in the process, the next best thing you can do in ridding your house of lice is calling your Twin Cities exterminator. At Eco Tech we treat the inside and outside of your house, ensuring the nasty pests are exterminated using our less toxic organic product line.