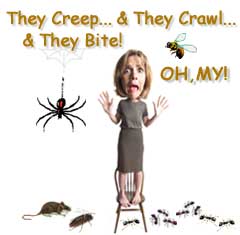 Although ants are not nearly as scary as other pests like snakes, cockroaches, etc., they are arguably the most annoying. If you see one ant, there's likely plenty more around. These tiny pests can enter into your home however they choose and if not addressed quickly, they can multiply in a hurry. With warm weather, comes busy ants. If they have recently found their way into your MN home, it's critical that you take advantage of the professional ant extermination services that our team at EcoTech has to offer.
Ant Elimination Safely
The end goal is to remove the ants from inside and around your home. These ant colonies can be as large as 300,000-500,000 so it's not always a quick removal process. Regardless of your situation, you can count on our team to eliminate these ants from your home safely and in a timely manner. Our team has been providing ant extermination services for more than 15 years, so we know all of the best tools and tricks to getting rid of these pests. There are different ant species around MN, and the treatment differs by species. Count on our staff to correctly identify the ants that have invaded your property and apply the right extermination treatment to get the job done effectively the first time around. By using our organic extermination product line, no one else in your home will be harmed by the treatment application. It only impacts the pests. Your children and animals will remain safe as can be.
Ant Extermination Experts
As your trusted ant extermination professionals, our initial focus will be on inspecting your property thoroughly for ants. From there, we'll apply our safe and organic extermination treatment to remove these ants from your property. Our work doesn't stop there! If any damage has occurred, we'll repair the issues. Additionally, we'll apply preventative measures to ensure that these ants don't invade your home again in the future.
Don't ignore the ants that you have found in your kitchen, living room, bathroom, etc. The longer they are ignored, the more ants will invade your property. Instead, take quick action and contact a reputable ant exterminator with experience. If you are in need of professional ant extermination services in MN, our team at EcoTech is the best option for you. To learn more about our safe and effective ant extermination services, give us a call today at (763) 785-1414.