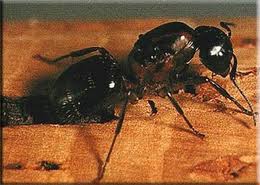 It is widely suggested that ants have been around since dinosaurs roamed the earth. Certainly known for being around the early cretaceous periods, studies suggest maybe even earlier than that! So, it's not a weird statement to make when we say that ants are survivors. They are able to carry anywhere between 10-50 times their body weight, making them scavengers that can easily provide for their colonies. With over 12,000 ant species in the world, it's also hard to know which one may be invading your home. At EcoTech, we know all about ants. If you are having an ant problem in your home or business, don't let it fester! As you delay, their colony only grows stronger. In fact, colonies can have anywhere from 300,000 to 500,000 ants! Can you imagine that many in your home? What you need is an exterminator that can locate the nest locations and eliminate the entire problem. At EcoTech, we are here to help.
Ant Communication
Some may think that if they only see one ant and they kill it, then the problem immediately goes away. Unfortunately, if you see even one ant in your home, it's likely there is a growing infestation right around the corner. Ants use chemicals from within their body to communicate. They release pheromones that other ants will pick up with their antennae. This allows them to point each other in the direction of food, water or place other ants on high alert. Ants also use touch and vibration to communicate. With that being said, even if you see ants in your home and kill them right on the spot, it doesn't mean that they are going to stop coming. The communication has already been sent and it's likely that more ants are headed your way!
Ant Extermination
So how exactly do we stop this vicious ant infestation cycle of events? At EcoTech, all you have to do is give us a call. We will send an exterminator out, at your convenience, who will locate these annoying pests, find all of their nest locations and then eliminate them all at once. We have the experience and knowledge to determine the different ant species we see and then customize the treatment depending on their species. Locating the nest, terminating the colony and keeping your family, pets and the environment safe are always our top priority.
For more information about any extermination in Minnesota or to come and get our professionals out to your property for extermination work, give us a call today. Contact EcoTech today at (763) 785-1414.