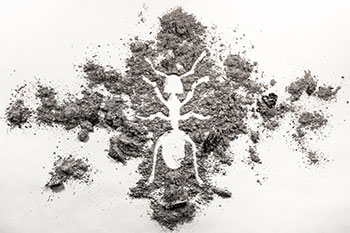 Many of us do not love insects but chances are good that you realize that many insects do a lot of good things for humans. For example, we know that without bees, our food choices would diminish significantly. Spiders, even when they are in our homes, consume smaller insects that would otherwise make our lives miserable.  But what about ants?  Do ants perform any function that benefits us?  The answer is yes, but no one wants ants performing their acts of good inside our houses or work spaces.  Ants are incredibly strong for their size and can find their way into just about any location—usually where you do not want them to go, such as cereal boxes, trash cans, even dishwashers.  When this happens, call a professional ant exterminator to deal with them for you.
Get Rid of Ants In your Home
If you have ants in your home and you cannot get rid of them, we can.  Ants can also be a problem in locations outside of your home or business.  Ants can take up residence in your lawn, in tree stumps, and under your foundation.  If they happen to be fire ants or another aggressive, biting, or venomous type of ant, you will want to contact EcoTech so as not to have to deal with them yourself.  We provide prompt service, competitive pricing, and our extermination methods are environmentally friendly.
Ants that infest homes or businesses can be very difficult to remove thoroughly.  And most products you can buy in stores only kill visible ants.  But EcoTech locates their routes of transportation and identifies the locations where they enter homes and businesses.  Our proven methods of extermination take care of the ants you see and the ants you do not see.
Organic Ant Extermination & Pest Control Company Near Minneapolis
EcoTech will respond to your ant problem promptly and will leave no doubt as to the thoroughness of the job we do.  Additionally, we guarantee that our work will not leave you with a mess.  We have the training and experience to ensure that the areas affected by ant infestation will be sanitized.  Store-bought ant extermination products can leave residue in areas where you do not want chemicals that can have an effect on you, family members, or employees.  But when EcoTech does exterminate ants for you, our training ensures that your food preparation areas will be properly cleaned.  In addition, we are an organic pest control company, meaning that you can be confident that the chemicals we use will not harm you, your children or you pets.
Ants may be beneficial to our environment in many ways.  But when they cross the line of our doorstep, they become unwelcome invaders of our homes and business.  If you want the ants in your home removed completely and safely, contact us and we will be happy to help you.  You can reach us 24/7 at any of these numbers: (612) 237-8282, (952) 881-6662, (763) 785-1414, or (651) 260-7378.