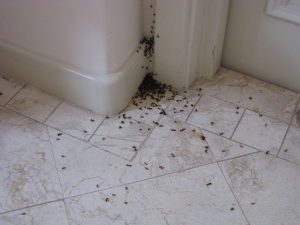 Once ants find a way into your home or business, they can be extremely difficult to get rid of. They can enter through the smallest of holes or cracks and once they communicate to their colony that they have located a food source, you will soon have hundreds or thousands of ants marching in. Ridding your home, business and/or property of ants most often should be left to a professional. The team at EcoTech specializes in ant inspection and removal in Minneapolis, MN. We can exterminate all ants, identify exactly how the ants got inside, identify other vulnerable entry points and complete repairs so that you do not have further problems.
Ant Inspection & Extermination Services In Minneapolis
EcoTech has been battling the ants of Minneapolis for more than fifteen years. Our team understands how best to treat them, can differentiate between ant species and develop a unique treatment plan for your property that will be successful in the long term. We can locate the ant nests, entry points into your home or business and completely eliminate the ant problem before it worsens. Treatments that you can buy yourself do a decent job of killing the ants that you can see, but there are always many, many more ants that you cannot see. These solutions can be reasonable for the short term, but they cannot replace the professional inspection and prevention services that we provide.
The team at EcoTech uses a less toxic and organic product line to treat ants and other insects on your property. We are committed to our customers and our environment and our extermination solutions are safe for you, your children, your pets and also safer for the environment that we all share. We are proud of our A+ rating with the Better Business Bureau, and we do not require our customers to sign contracts with us. We provide the services that you need, nothing more and nothing less. We also make sure that we are available to our customers when you need us. So, we offer 24/7 service as well as service at night, the weekends and even holidays.
Experienced Minneapolis Ant Inspection Company
An ant problem can come out of nowhere – and EcoTech can help you be ready. For more information about our ant inspection services in Minneapolis, MN, call us at any one of the following numbers: (763) 785-1414 • (612) 237-8282 • (952) 881-6662 • (651) 260-7378.