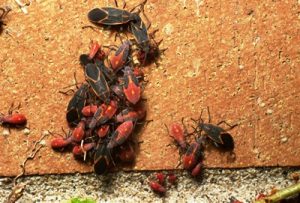 As we prepare for fall and winter in Minnesota, it's time to start thinking about all the pests that want to invade our warm and cozy homes! One of the bigger nuisances that we have to deal with year after year is the box elder bug. At EcoTech, each year we're called by countless customers because of an infiltration of large colonies of box elder bugs. Thankfully, we're well versed in taking care of these pesky critters, but it's always a good idea to ensure you're properly prepared for the onslaught of the box elder bug each year.
Why are Box Elder Bugs Such a Big Problem in the Fall and Winter?
Box elder bugs will typically attempt to come into your home in the fall and winter because they're simply looking for a warmer place to relocate. While box elder bugs are essentially harmless, they do give off a strong odor when crushed or disturbed. In addition, their excrement as well as their dead carcasses can accumulate, which can be difficult to clean, especially in hard to reach areas.
How to Identify Box Elder Bugs
Adult box elder bugs are most often seen in homes and can be identified due to their orange or red stripes. These bugs typically have one stripe that runs down the center of their heads with two additional stripes that run along the sides of their bodies.
How to Prevent Box Elder Bugs from Entering Your Home
At EcoTech, we always tell our customers that preventative maintenance is often the best defense against all pests, including box elder bugs. Below are a few steps that can be taken to help reduce the chances that you'll be dealing with an infestation of box elder bugs this year.
• Seal up any holes around your home – The first step to cut down on box elder bugs (and other pests) is to seal up any holes you can find around your home. This includes any holes around windows and doors, but also any areas where utilities may be coming into your home, as well as any cracks in your foundation.
• Get rid of debris piles – If you have a large pile of debris or wood that's located close to your home, it can be a haven for pests. Get rid of these piles of debris to discourage pests from being attracted to your home.
• Treat the exterior of your home – Having a licensed pest control company like EcoTech apply insecticides to the exterior of your home can be extremely helpful in terms of reducing the number of box elder bugs that make their way into your home.
Box Elder Bug Exterminator North Metro
While we hope these tips will keep box elder bugs away from your home, if you do encounter a problem, feel free to give us a call to setup a free consultation. We can be reached 24/7 at (763) 785-1414 to discuss all your pest control needs. We're an organic pest control company, which means that we use all-natural solutions to give you the results that you're looking for while also keeping your children, family and pets safe.