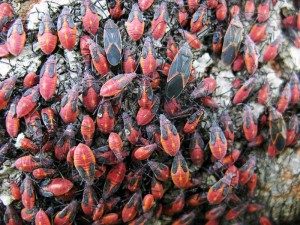 If you're a resident of the Minneapolis area, you probably are accustomed to Boxelder bug swarms in the fall. There are a number of reasons the number of calls for Boxelder bug extermination in the fall continues to rise here at EcoTech. If you're experiencing an infestation of Boxelder bugs in or around your Minneapolis home, don't hesitate to reach out to our team of experienced exterminators today.
If you're new to the area or maybe just not familiar with Boxelder bugs, they are small bugs that are typically dark brown or black and have red wing veins and markings on their abdomens. Boxelder bug nymphs are red. Boxelder bugs are most often found on boxelder trees and ash and maple trees.
Why are Boxelder bugs problematic?
Boxelder bugs most often become problematic in the fall when they're known to swarm homes, sheds and garages. If you're currently experiencing issues with swarms of Boxelder bugs, it's likely best to call a professional pest control company like EcoTech.
Problems That Can Occur if Boxelder bugs swarm your home
If Boxelder bugs begin to invade your home, they can be quite problematic. While they typically aren't known to bite, their mouthparts have been known to pierce the skin and cause slight irritation. In addition, if Boxelder bugs are crushed they can produce a strong odor and their fecal matter can leave red or orange stains on fabric in your home.
How to prevent boxelder bugs from invading your home
To prevent Boxelder bugs from invading your home this fall, it's important to repair any holes you may have in window and door screens and to also seal any cracks or crevices that you have around your home. Be sure to use a quality silicone caulk that will stand up to the harsh Minneapolis winters. It's best not to kill these bugs if they're in your walls because the dead bodies can attract other insects.
Hire a Professional Exterminator to Deal With a Boxelder Bug Infestation
If you're currently dealing with a Boxelder bug infestation and are not sure where to turn, don't hesitate to reach out to our team here at EcoTech. We have decades of experience in the pest control industry and always do our best to use the least amount of chemicals necessary to get the job done. To get a handle on your Boxelder bug problem, give us a call today at (763) 785-1414.