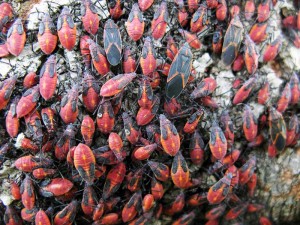 EcoTech is the best Box Elder Bug Exterminator in the city of Minneapolis. The good news about box elder bugs is that they do not sting which means they cannot hurt you, and they do not carry diseases. So a box elder swarm cannot make you sick either. However, box elder bugs can become quite a nuisance in this area of the country.
Minneapolis Box Elder Bug Extermination
For most of the year, you probably do not notice the box elder bug. When the conditions are warm enough to make them happy, they are content to spend time in box elder trees, multiplying into thousands or maybe millions more box elder bugs. As the calendar gets closer to the time when box elder bugs decide they need to begin looking for a warmer location to wait out Minnesota's colder months, they become more active. The time when box elder bugs decide that it is too cold for them often overlaps with the time that humans consider it ideal to spend time outside. Before you know it, your backyard barbecue, pool party, or garden work becomes unbearable because you are being swarmed by box elder bugs.
So, while box elder bugs cannot hurt you and that they cannot spread disease, they can cause problems when they fly around you and get into your home. Being swarmed by box elder bugs is, at best, a nuisance. It is, at worst, disgusting. They cannot do you harm, but they can create quite a mess. Box elder bugs' excrement can stain the external surfaces of your home, your cars, and your lawn furniture.
Eco Tech has a range of ways to rid your entire property of box elder bugs, which is what helps to make us one of the best and most trusted exterminators in Minnesota. We use a safe and less toxic organic product line that gets rid of box elder bugs and other pests and we can also repair any damage left behind in and around your home. We have built a strong reputation in the Minneapolis area because of our commitment to excellent customer service, affordable pricing, as well as providing thorough and expert insect extermination.
Professional Pest Control Service, Minneapolis
If you have Box Elder bugs on your property, please contact us at (612) 237-8282, (952) 881-6662, (763) 785-1414 or (651) 260-7378. We also have a 24-hour emergency line for insect problems needing immediate attention. That number is (763) 232-7296.