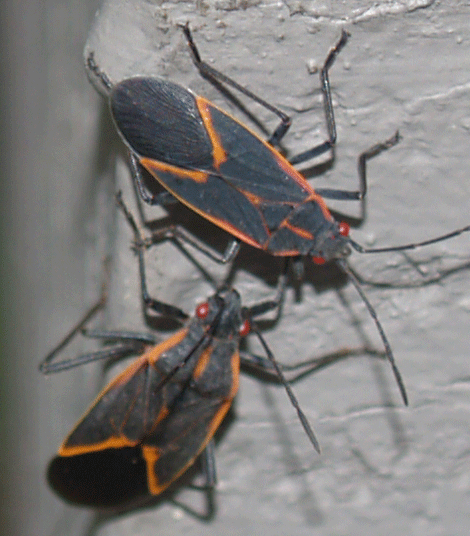 As we move into fall in East Bethel, MN you may notice an uptick in bugs around your home. One of the pests that really thrive during after summer is the Boxelder bug. These bugs love to move inside your home and setup "shop" in late summer so that they can be good and warm once fall and winter hits. During spring and early summer these bugs typically are munching on box elder trees and mating, so they're not as concerned with finding a home inside your abode. If your home is being infiltrated by these pests, it's time to contact an effective Boxelder bug control treatment company like Eco Tech today.
Are Boxelder Bugs Harmful?
Thankfully, if you see a number of Boxelder bugs in your home you don't have to be worried about them carrying diseases or being harmful to your health. The only nuisance is the stains that can be left behind from their excrement as well as the thought that there may be many more hiding out in your walls that need to be dealt with by a licensed East Bethel pest exterminator.
Guaranteed East Bethel Bug Control
When you hire a Boxelder bug control company you no doubt want results. With Eco Tech we offer an elimination guarantee that will get rid of all of the Boxelder bugs in your home once and for all!
Organic Pest Control Product Line
We not only get rid of all of your pest problems but we also use a less toxic organic product line that will not harm any of your pets or family members. Many of our customers really like the fact that we think about the types of products we're using in their homes as opposed to spraying highly toxic chemicals without any thought of the potential damage that these chemicals can cause.
Minnesota Exterminator Web Specials
If you're a first time customer of Eco Tech we have a special running where you can get $20 off of your initial East Bethel bug control visit. This coupon is only valid for first time customers and must be printed out from our website. Use this coupon to see just how great Eco Tech can be for getting rid of all of your pest control problems.
Say Goodbye to Boxelder Bugs Once and For All!
It's time to bid farewell to the Boxelder bugs that have made a temporary home in your residence. Give the pest control professionals at Eco Tech a call today at (763) 785-1414 to setup your free estimate.