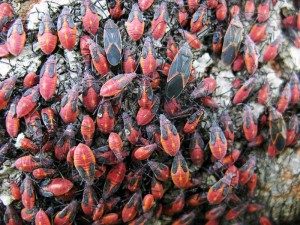 Life in the technological age may lead you to believe that we should have flying cars and be free of inconveniences like household pests. That is just not the case. Nature may always win the wider war, but companies like EcoTech exist to win the battles. When bugs invade our home and work spaces, EcoTech is the industry leader in common infestation situations and in emergency pest control services. We have the experience and expertise to come into your home and exterminate the bugs that want to make it their own. Furthermore, our staff is trained to be not only experts in exterminating household pests, but also to be exceptionally good customer service agents. When you work with our team you can count on being treated respectfully and with honesty.
Leading Bug Extermination Company
We are certified by the Better Business Bureau, so you know that we are fully committed to honesty and accountability. When you contact us for an extermination job, we will do the job properly and we guarantee minimal inconvenience to you and your family. We understand that not all bug infestations are normal. Some require a more immediate response. We make ourselves available for emergency situations so that you can be free of your bug infestation as close to immediately as possible.
Seasoned Exterminator Minneapolis, Minnesota
If your extermination issue is not necessarily an emergency but is located in a part of your property that you cannot easily or safely reach, we can help. Our staff has been trained to prepare for a wide range of possibilities, so if you think that you have a unique or unusual situation, the chances are good that our staff is well prepared to respond to it.
In addition to being experts in our field, we pride ourselves on two other aspects of good business that really set us apart: our prices and our customer service. We work to keep costs to our customers down and doing the job you ask us to do never requires a long-term contract. We find a good balance between paying our staff a good wage and never over-charging our customers for the privilege of exterminating the bugs that want to take over your home.
Extermination Services that Work for You
EcoTech has become an industry leader by prioritizing reasonable prices and excellent customer service. And in working to establish our leadership, we have built our business on the expert removal of all household pests, from insects to rodents. If you are concerned about the chemicals used in the extermination process, we can also talk to you about our environmentally friendly products.
If you have an emergency infestation, call our 24/7 Emergency Service, (763) 232-7296. For other inquiries, you are welcome to call any of the following numbers: (612) 237-8282; (952) 881-6662; (763) 785-1414, (651) 260-7378 and we will get back to you promptly.