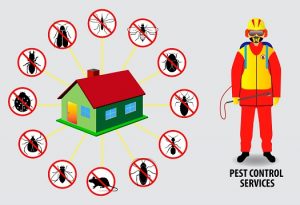 Have you recently had a bad run in with an unwanted bug inside your home? While you may think that running to the nearest store to purchase some bug extermination application, it actually might not be ideal, especially inside your home. A lot of these applications sold can be harmful to your pets and even your children. At EcoTech, we're proud to offer you a much safer solution to your bug problem. We are a bug exterminator by you that can get rid of the bug(s) safely.
At EcoTech, we identified a need in the bug extermination industry that wasn't being met. There were not many bug exterminators offering organic pest control services. So, we made it a point to create a safe solution for our clients when it comes to getting rid of unwanted bugs on their property. The best part about choosing our staff as a bug exterminator near you is that you will no longer have to worry about anyone else inside your home getting harmed by the extermination application. To take things even a step further, our applications ensure that even the animals that feed on these unwanted bugs are left unharmed from coming into contact with our pest control application as well.
Bug Exterminator by Me
As a family-owned bug exterminator near you, we aim to treat our customers just like they are part of the family from the minute we meet them. We want to build a relationship with our clients built on trust, affordability and organic bug prevention. With our organic bug extermination application and more than 50 years of combined experience, we truly offer the total package when it comes to pest prevention. We plan to keep it that way for years to come!
Insects We Exterminate
There are lots of different bugs in the Minnesota area, even with the cold temperatures that hit this region. Some popular bugs that we often get extermination calls about include:
● Ants
● Spiders
● Lice
● Beetles
● Millipedes
● Bees & Wasps
● Roaches
● Fleas
● Crickets
● Many More!
Although you may feel overwhelmed after coming in direct contact with an unwanted bug in your home, the good news is that you have an experienced and trusted bug exterminator by you. Don't rely on those dangerous chemicals in store bought extermination applications. Instead, leave it up to EcoTech to keep you safe. To learn more about our organic extermination applications, reach out to EcoTech today at (763) 785-1414.