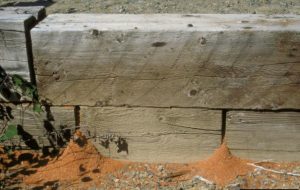 At EcoTech, we are ant extermination professionals in Minneapolis, MN that pride ourselves in providing both non-toxic and traditional extermination options for our customers. If you have a carpenter ant problem, it's imperative that you quickly act. Carpenter acts are known for chewing through wood to make enormous trails and passageways within wood and forming nests as they multiply and work on enlarging their pathways. With over 15 years of providing carpenter ant extermination options to our customers here in Minneapolis, MN, we can put a halt to your carpenter ant problem and preserve your home before any further damage occurs.
Carpenter Ant Problems
Anytime you have an ant problem in your Minneapolis, MN home, it's likely bigger than what meets the eye. What seems like just a couple of ants at first can turn into a 500,000 ant colony right underneath your feet. Carpenter ants can be found anywhere but enjoy nesting in older wood. While they are not necessarily eating through your wood, they are digging numerous tunnels to create and expand their nesting and increase their colony size. Imagine what this kind of damage can do to your home. Some customers have even heard them within their homes as the ants are excavating the wood within their walls and floors. Do not wait and let it come to this. If you think you have carpenter ants within your home, call our professionals right away.
Killing The Colony
When you first call EcoTech, we will send out one of our expert ant extermination professionals. They will assess your ant problem and determine the exact species. Locating the nest is always the first step in finding the best carpenter ant extermination option. Our professional will then discuss with you the best treatment options for your home. EcoTech offers both traditional methods of extermination but also a less toxic, organic product line. No matter what treatment option you may choose, we will do a thorough job in eliminating the ants and prevent them from ever invading your Minneapolis home or business again. We even go a step further in our process and assess the damage these carpenter ants may have already done. We will repair that damage so you no longer have to worry about the weakened wood they may have forged through.
For more information about our carpenter ant extermination options in Minneapolis, MN, give us a call today. Contact EcoTech today at (952) 881-6662.