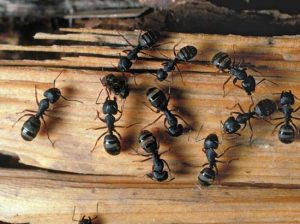 Carpenter ants get their name because they are so good at building their nests. They actually excavate wood to form smooth tunnels where they live, causing potentially serious problems for your home. Carpenter ants can build nests in any area with wood around your home, but they tend to prefer wood that is a bit moist. You may find them in and around your indoor sinks, tubs, windows that are not properly sealed, door frames and areas of your roof that are vulnerable to leaks. These ants do not eat the wood, but chew through it to make their nests. Because carpenter ants can damage the wood around your home, you should partner with a professional team for carpenter ant extermination services. EcoTech specializes in getting rid of carpenter ants in homes and businesses in White Bear Lake, MN.
Signs that you might have carpenter ants include the following:
● You notice red or black ants in or around your home.
● You see wood shavings or even sawdust in certain areas of your home including windowsills and baseboards.
● You hear faint rustling noises in your walls.
● You see very long ant trails in your yard leading to your home.
The exterminators at EcoTech are trained to be able to locate and eliminate carpenter ant nests so that they can no longer share our space and damage our property. We can find these nests quickly and remove them, eliminate the carpenter ants and then complete any necessary repair from damage that these ants have left behind. We can repair the areas of wood that the carpenter ants have destroyed to make their nests and strengthen vulnerable areas so that these ants will not be drawn to your property.
Natural Pest Control to Eliminate Carpenter Ants
EcoTech uses natural pest control solutions to manage carpenter ant problems and other pest issues for your White Bear Lake home. This means that the solutions we use are safer for you, your family, your pets and the environment. We are a family-owned business that has a combined fifty years of experience in the pest control business. We take pride in meeting the specific needs of our customers and do not require annual contracts. We instead complete the pest control services that you actually need – so that you never pay for services that you do not need. For more information about EcoTech's carpenter ant extermination services, call us at any one of the following numbers: (763) 785-1414 • (612) 237-8282 • (952) 881-6662 • (651) 260-7378.