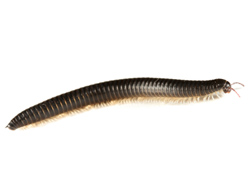 Millipedes are a common problem in the Minneapolis, MN area. They often look for shelter during the winter months or after a heavy rainfall. This means that during those times you may find these critters in your home. They can be neat creatures to look at, but you certainly don't want them in your house! If you need to eliminate nuisance bugs like millipedes, it may be time to call a professional bug exterminator. For millipede control in Minneapolis, call the professional exterminators at EcoTech.
Distinguishing Between Centipedes And Millipedes
Centipedes can grow up to six inches in length but can be easily distinguished from a millipede because it has fewer legs (specifically, one set for every segment of its body). Millipedes have two sets of legs for every segment, and when they move, their legs appear to be moving in a wave-like motion. A millipede's legs are also shorter and, in general, a millipede cannot move very fast. A centipede, with its fewer legs, can travel considerably faster.
Preventing Centipede And Millipede Infestations
Preventing millipedes from entering your home is the best approach to millipede control. Remove mulch, leaves, grass clippings, boards or woodpiles, stones, boxes, and similar items that are on the ground next to your foundation, as these items attract millipedes. If you can't remove an item, raise it off the ground. Millipedes also thrive in the moist thatch layer of poorly maintained lawns. Dethatch your lawn and mow the grass short to make it less appealing to millipedes. Avoid over-watering or watering your yard at night to keep millipedes at bay.
At EcoTech, we are specifically trained to deal with millipede infestations. We have highly effective and earth-friendly pest control solutions that get the job done right the first time! We protect our clients by using less toxic, organic products to eliminate nuisance bugs and keep your family, children, and pets safe in the process. EcoTech has been serving the Minneapolis, MN area for pest control solutions for 20 years. We are local and knowledgeable on all different pests. We have the means to eliminate nuisance bugs and help prevent them from ever coming back! We feature both natural and traditional methods for our pest control solutions. If you need millipede control, and are in the Twin Cities metro area, call EcoTech at (763) 785-1414 today.