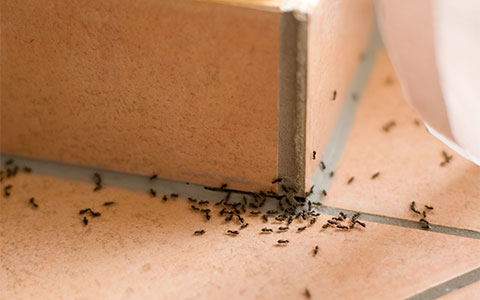 There is nothing wrong with enjoying nature from the comfort of your office or work environment. However, when bugs, spiders and other pests get a little too close for comfort, it's time to call in professionals. At EcoTech, we pride ourselves on providing eco-friendly, green methods for insect and pest management. There are many benefits of choosing organic solutions for eliminating pest problems across a wide range of industries. A Certified Master Technician from EcoTech can provide your restaurant, warehouse, hotel or other facility with thorough pest control services without a monthly contract commitment.
Commercial Industries Serviced by EcoTech Pros
While no industry wants to operate under the unsanitary conditions, many commercial facilities are plagued by intrusive pest problems that could threaten human health and the bottom line. Commercial industries serviced by EcoTech pest control company includes:
Bars
Restaurants
Airlines
Hotels
Office buildings
Manufacturing facilities
Warehouses
Retail spaces
Healthcare facilities
Grocery stores
Food processing plants
Public facilities
Education buildings
Benefits of Organic Insect and Pest Control Process
Some of the many benefits of the organic insect and pest control methods used by EcoTech can make the entire process quick, convenient and affordable.
Professional inspection to look for bugs, spiders and insects
Quote for effective pest control measures with No hidden fees
Customized approach to resolve insect infestation issues
Environmentally safe and efficient pest eradication choices
Pest prevention treatments and actions
State certified master technician
Commercial pest control without monthly contract
Eco-friendly pest management materials
A+ rating from BBB
Emergency service availability
First Time Pest Control Customer Specials
First time customers to EcoTech can qualify for a new client special and receive a $20.00 Off Coupon for use on your first visit. Ask an EcoTech representative when calling to schedule your initial service visit at a home, office, warehouse, hotel or commercial facility.
Pest Problem Eliminators
Finding roaches, ants, crickets, spiders or any other crawling or flying insect in your place of business can be resolved with one call to the pest problem eliminators at EoTech. Our technicians are specially trained to find bugs where they live and breed and provide fast, affordable solutions with impressive results. Commercial property managers and business owners can rest assured with a pest removal business operates with a policy of customer satisfaction as our first priority. Providing organic pest control for more than fifteen years in the Twin Cities area.
Schedule an appointment with an EcoTech team member for affordable and effective pest control services call: (763) 785-1414 • (612) 237-8282 • (952) 881-6662 • (651) 260-7378