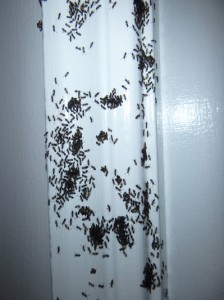 Nothing hinders production quite like a bug infestation at the work place. If you're in need of commercial pest extermination services and are anywhere in the Minneapolis, MN area EcoTech is your best pest control solution. Whether they've crept into someone's cubical, they're holding your work kitchen hostage, invading your front entrance or took your CEO's office over – they need to be stopped!
Never give into their demands. I don't care if they've left you a clearly legible trail of crumbs, that correctly spells out each and every one of their requests. Don't give in, don't give them what they want and never feed them. They will only multiply and possibly take over (queue dramatic music)!
All kidding aside, if left alone they won't simply disappear and if you go full-stomp on their hinnies it may help for a couple of minutes, or hours but I promise you many still lurk in the shadows, cracks and crevasses. They will be back and attack your office again, with full force mwahaha….am I getting carried away again? The point I am trying to make is you need to do something, they won't vanish on their own, in fact it's quite the opposite and in extreme cases they can damage the structural integrity of a building.  
Environmentally Friendly Pest Control
Sometimes the traditional pest extermination process just doesn't suit a company, maybe you're a daycare center, with kids crawling and sticking everything they can into their mouth, maybe you work with animals and pretty much the same thing applies or maybe you're a company that prides themselves of being 'green'.  No matter the case, Eco Tech has your company's back, with purely organic pesticides that are safe enough to eat, though they are not very tasty.
Exterminate Any Bug
Eco Tech offers our organic pest control solutions for any type of insect, from carpenter ants to millipedes, roaches to wasps. Those bugs don't stand a chance with us on the job. Our method will also allow you to quickly get back to work and not miss any productivity time due to harmful fumes or possible reactions after we have exterminated what's bugging you.
Gentle and Effective Extermination
Our natural pest control treatments offer you and your office piece of mind and those bugs a death sentence. We guarantee that which is why warranty our extermination services and their results for 30 days, which is pretty unheard of in our industry. Get those insects out and get back to work faster with the pest extermination help of Eco Tech.
Call us and schedule a commercial pest control services at 763-785-1414 or for an emergency call 763-232-7296 for immediate response!