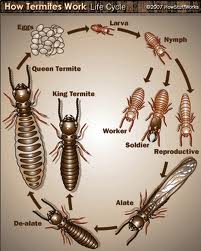 The fall months bring cooler temperatures and longer nights, but with it, also comes the warning that winter is right on its heels. With winter comes much snow and ice storms and increased standing water due to the effects of snow melt. This much water tends to cause insects to seek dry shelter. Termites are no exception to this rule.
While termites are more numerous in the Spring season, they remain active year-round, as they do not go into any dormant phase during the winter months. In fact, as the temperatures plunge, so do termites. They will dig deeper down to find warmer refuge. They have been known to seek shelter and food sources within residential dwellings and commercial structures.
Signs That You May Have Termites
● Damages to your home or business: Probably the most common sign. You may find signs of damages in the way of chipped paint, sagging ceilings, or floors that appear water damaged.
● Finding their wings: Termites will discard their wings from time to time, and you may see their wings lying around your home, garden areas, or trapped in the webbing from spiders.
● Mud tubes: Termites that reside underground will oftentimes build mud tubes that connect their nests to their food sources. These are typically found in the darker corners of your home or along your home's foundation.
Preventing Termites
There are a few steps that homeowners can take to help prevent a termite infestation at any point throughout the year:
● Fix any plumbing leaks that are around your home's foundation or any structural wood. This will cut off water sources, which the insects are in search of.
● Keep wood piles away from the house. It is common during the winter to keep a woodpile on the porch or very close to the homes' structure, but this is an invitation for pests and small critters to seek warmth and refuge during the colder months.
● Seal cracks and gaps. It may seem obvious, but any cracks or gaps are open invitations to get into the walls or structure. Sealing these off will save you on your energy bills but will help prevent pests' entry.
Pest Control Experts In The Twin Cities
If you think you may be having issues with termites in or around your home or place of business, call the pest control experts at (763) 232-7296 today. We offer humane and natural methods to eliminate your problem with bugs. Call us or schedule an appointment online today!