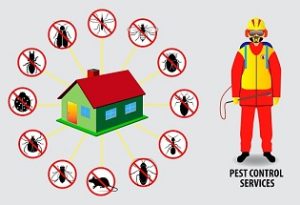 When pests invade your living space, they can turn your home into a source of stress and discomfort. At EcoTech Pest Control, we understand the importance of a pest-free home, which is why we offer our premium Residential Pest Management service. With our eco-friendly approach and skilled technicians, you can reclaim your peace of mind and enjoy a safe, pest-free haven for you and your loved ones.
Personalized approach: No two homes are alike, and neither are their pest control needs. Our Residential Pest Management service is tailored to your specific requirements, ensuring that we address the unique challenges you're facing. Whether you're dealing with ants, spiders, rodents, or any other unwelcome guests, our experts devise a customized strategy that targets the root of the problem.
Eco-friendly solutions: The well-being of your family and the environment are our top priorities. Our eco-friendly pest control solutions harness the power of nature to effectively eliminate pests without relying on harmful chemicals. By using integrated pest management techniques and non-toxic treatments, we create a safe and healthy living environment for you and your loved ones.
Comprehensive coverage: Our Residential Pest Management service offers comprehensive coverage to protect every corner of your home. From the interior to the exterior, we leave no space unchecked. Our skilled technicians conduct thorough inspections, identify potential entry points, and implement preventative measures to ensure that pests stay out for good.
Long-term prevention: Our commitment to your satisfaction extends beyond just solving immediate pest problems. We believe in long-term prevention to keep pests from returning. By addressing the conditions that attract pests and implementing proactive measures, we help you create a pest-resistant environment that stands the test of time.
Peace of mind guaranteed: When you choose EcoTech Pest Control's Residential Pest Management service, you're choosing peace of mind. Our dedicated team of professionals is here to alleviate your pest concerns and provide ongoing support. You can rest easy knowing that your home is in the hands of experts who prioritize your safety and well-being.
Your home deserves to be a sanctuary, free from the intrusion of pests. With EcoTech Pest Control's Residential Pest Management service, you can enjoy a pest-free environment that aligns with your values and protects your family's health. Contact us today to experience the difference of eco-friendly, personalized, and effective pest management. Reclaim your home and make it a haven once again.