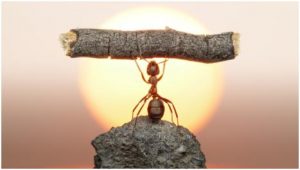 Ants are one of the most common pests that are typically found in residential homes. Many times, homeowners will think that they have their ant problem under control only to find out ants continuing to march in and out of their homes like they own the place! If you've had enough of attempting various DIY ant extermination methods, why not give the extermination pros at Eco Tech a call today. We've been providing pest control services in the area for decades and ants are simply no match for our expertise and attention to detail. Give us a call today to schedule a consultation with one of our experienced exterminators.
Why Do Ants Keep Invading My Home?
Below are a few of the reasons why ants are continuing to make your home, their home:
Pet food – Many times pet food, especially dog food will sit out for long periods of time, which can attract ants. Homeowners will often do a good job keeping their own food put up, but they'll leave their pet food out in the open. Attempt to only leave pet food out when you are actually feeding your animals, and put it away at other times to avoid ant infestations.
Sugary foods, crumbs and uncovered food – Ants most often invade our homes because of sugary foods or food that is left uncovered. Ants will actually send scavengers around your home to locate any sign of food. Once they have located something worth devouring, they'll go back to their nest and send out an A.P.B. for all their friends to come enjoy their new-found feast. This is why very quickly you'll have a massive infestation of ants around any food that's left out in your home.
Opening around your home – Another common cause of ant infestations is simply having too many openings around your home. Ants can obviously travel through very small openings, so if you have ant nests close to your home, it may only be a matter of time before they make their way into your home. This is why using perimeter pest control products can help to prevent ants from infiltrating your home.
Interested in Getting Rid of Your Ant Problem?
If you're tired of trying to tackle your ant infestation on your own, give the pest control pros at Eco Tech a call today. We use eco friendly pest control products that not only get the job done, but aren't harmful for the environment as well. Give us a call at 763-785-1414 and we'll be glad to come out to give you a free no obligation estimate for your pest control needs.