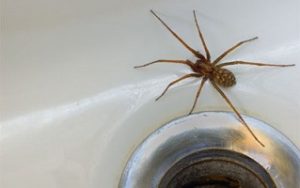 As a homeowner, the last thing that you likely want crawling around your house are spiders. Spiders are good in that they eat other bugs, but our team at EcoTech understands that you don't want them invading your space. So, if you have come into contact with one too many spiders in your residence, our extermination professionals at EcoTech offer effective spider removal for the Twin Cities, MN community.
Spider Removal Experts
In order to offer our clients effective spider removal services, we had to become spider experts. There are more than 35,000 species of spiders and many of them love to make your home their own. Did you know that you are always about 3 feet away from a spider? Oftentimes, you don't even notice the spiders when they are around. If you do notice them, then it likely is time for you to call our spider experts. We offer 24/7 spider control services, which provides our clients peace of mind. Even if you find a nest of spiders after our normal business hours, we will be happy to respond after hours.
Natural Spider Removal Services
The great thing about choosing to work with our pest exterminators is that we use natural pest control products that will not harm any kids or pets in your home. Our staff loves the environment, which is why we have placed such a strong emphasis on utilizing natural pest control products at all times. We have effectively been able to remove the harmful synthetic ingredients while still being able to get rid of spiders in your home the first time around.
Spider Removal Treatments
When it comes to removing the spiders from your home, you don't want to have to spend tons of money. We understand that and are proud to offer our spider removal treatments at an affordable price. You'll only pay for the services that you need, and you will never be required to sign a contract with us. Our inspection will identify all of the spiders and nests in your home and our natural spider control products will get rid of them quickly. Additionally, we'll focus on applying preventative measures to ensure that you don't have a spider problem in the future. This total package is what makes us the right team for the job.
If spiders have invaded your home and you are ready to get rid of them, EcoTech is the perfect team for the job. Offering effective spider removal services in the Twin Cities, MN, pick up the phone and let our staff stop by your home soon. Contact us today at (763) 785-1414 to schedule your initial inspection.