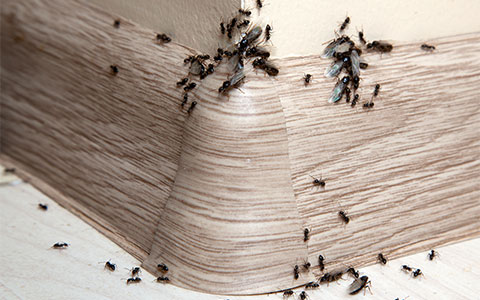 Eco Tech is a trusted Exterminator in Anoka County, MN. Our extermination services are complete, focused only on the pests, and environmentally conscious. We have been in business for nearly five decades and understand the pests that live in our area. We offer safe and affordable extermination services and require no annual contracts. We understand that you want to pay for only the services that you actually need, so we have structured our payment structure to meet customer needs.
Anoka County Insect Extermination
Not all insects that find their way into your home require extermination services. For example, one spider that strayed in from outside can actually be of benefit to the mini-ecosystem of your home. But the equation changes dramatically if you find multiple nests of spiders, a cockroach infestation, or a wasp nest. When such things are discovered, you can attempt removal on your own with store-bought insecticides, but the downside to this approach may outweigh the benefit of killing the offending insects. Over-the-counter insecticides not healthy for you or your pets and any amount of the spray you breathe in will cause irritation to your respiratory system. The professional exterminators at Eco Tech use all-natural solutions for insect control. This is safer for you, your children, your pets and our environment.
We combine safe insecticide use with our professional knowledge of locating and removing the insects that have established residency in your home. When we visit your home, we will do a thorough inspection in order to locate all of the insects infesting your home. We will then share our extermination plan with you so that you are fully aware of how we intend to go about getting your home back to you. When implemented, our extermination plan will not only serve to rid your home of the insects, it will serve as a means of prevention for future infestations.
Safe and All-Natural Pest Control in Anoka County
Eco Tech can exterminate any insects that choose your home as their own. Some of the more common insect infestations involve bedbugs, cockroaches, wasps, ants, beetles and ticks. These tend to be the dirtiest and, therefore, the least welcome of the insects who infest homes. If your Anoka County home has been invaded by any insect, please contact us to rid them from your property thoroughly and safely. Our 24-hour Emergency line is (612) 237-8282, but we can also be reached at the following non-emergency numbers: (763) 785-1414, (952) 881-6662, or (651) 260-7378.