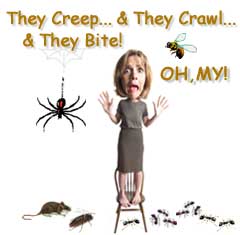 If you live in the Anoka, Andover or Blaine areas, you have many choices when it comes to an extermination service. So, how do you choose the best one for your needs? Do you look for a company that offers affordable services that are environmentally friendly? Are you looking for a company that stands behind their work? Or, maybe you are interested in making sure that the staff that enter your home are professional, prompt, courteous and upfront about costs and problems…or maybe you want to make sure that the company you work for does not push services on you that you do not need? What if you could find all of these qualities in one local company? EcoTech stands out as a local, professional and family owned pest control service that is committed to our customers. We work hard every day to earn your business. Our extermination services include:
● Natural Pest Control Service: EcoTech understands that you want to use safe and effective pest control solutions that will not harm your children, your pets or the environment. This is why we have all natural and organic options in additional to traditional extermination solutions. You can choose the option that works best for you.
● Extermination, Prevention and Damage Repair Services: In addition to eliminating all pests from your home or business, we can also prevent others from entering your property and repair any and all damage left behind so that your home is not vulnerable to future pest issues.
● Longest warranty in the business: We stand behind our pest control work and offer a 30 day warranty on all of the prevention and repair work that we provide. We do not require contracts so you will not feel pressured by our team and will never pay for services that you do not need.
● Residential and commercial services: We provide affordable extermination services for homes and businesses all over Anoka, Andover and Blaine, MN.
● Comprehensive pest control services that can eliminate roaches, beetles, ants, spiders, wasps, bees, lice, crickets, fleas and more.
● 24/7 Service: We understand that pest issues come up 24 hours a day, 7 days a week. We offer 24/7 emergency service so that you can reach us when you need us.
Natural MN Pest Control Services
EcoTech has worked hard to earn the trust of our Anoka, Andover and Blaine customers and hope that you will consider partnering with our team. For more information or to schedule service, call us at 763-785-1414.