What Are Grubs?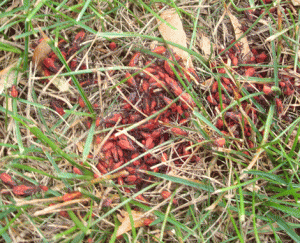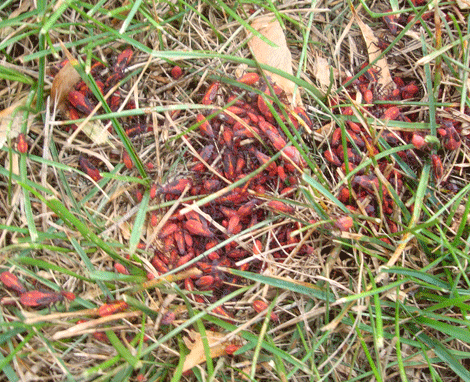 Grubs are larvae that will grow into different beetles. The most common forms of grubs found in the United States are either Japanese beetles or Oriental beetles, although other species have been discovered. Grubs are commonly white, and are easy to locate because they lie in the soil in a C-shape .
Grubs like to make homes under your lawn, and can cause rings of dead grass to form. When the grubs mature into beetles, the adult insects can then move on to eat and kill your plants.
Grubs Are Okay In Small Amounts
Having Some grubs are okay to have present in your lawn, as a healthy lawn has the ability to support a grub population of zero to five grubs per square foot. However, if the grub population exceeds nine per square foot, they will start to create visible damage and treatment is necessary to keep your lawn and vegetation intact.
How To Spot If You Have A Grub Problem
Many homeowners or gardeners may notice that they have a grub infestation when their lawn starts to wither away in large patches. You may have a grub problem if you can pull back the dead grass in a roll with one big pull, as they generally just eat the roots of the grass while leaving the tall leaves alone.
Once you pull the grass back, the C-shaped grubs are easy to locate.
Grubs Bring Other Unwanted Visitors
Not only do grubs destroy your garden and lawn, but many other unwanted pests such as Moles, Badgers, Birds, Mice, Rats, Shrews, Gophers, Groundhogs, Muskrats, Opossums, Raccoons, and Skunks like to eat grubs and will not hesitate to tear up your lawn in search of their tasty meal.
Grub Problem? No Problem When You Choose Eco Tech
At Eco Tech, we have over 15 years of Pest control services including lawn grubs. We offer every customer environmentally friendly options in order to protect your garden, pets and family from chemical harm.
We are friendly, efficient, knowledgeable and provide superior insect and pest control services all throughout the Twin Cities.
If you have any questions about your grub infestation problem, and would like to speak to a professional or need grub removal, call any of our offices at (612) 237-8282 • (651) 633-8600 • (952) 881-6662 • (763) 785-1414 to schedule an appointment today!