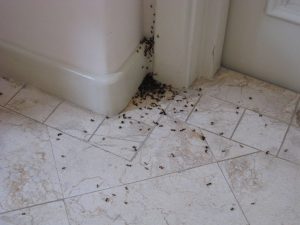 As the temperatures drop in our Minnesota towns, we all tend to stay indoors a bit more. If you ask anyone why that seems to be the trend, the overwhelmingly obvious answer is always to stay warm! Unfortunately, we are not the only ones trying to escape the cold. Insects and winter weather tend to disagree. So much so that many insects find refuge indoors while the frost takes over Minnesota. If you are noticing this problem in your Minnesota home or business, EcoTech is here to help. As a professional, family-owned pest control business, we are here to keep your home free of pests, regardless of what the weather may be doing outside.
Surviving Winter as an Insect
To survive the winter, common pests like wasps hibernate in large numbers. Wasps, specifically, look for high levels of elevation to keep safe like eaves, attics and barns. While some insects can fair the lower temperatures, others understand that their time is ending and choose to lay their offspring in a place that it will thrive. Whether your insect invasion is due to hibernation or egg laying, no one wants to share their home with an outdoor guest.
Winter Insect Exterminator
No matter what type of insect it may be – wasp, ants, fleas or otherwise, no one wants to see an influx of insects within their home. If you begin to notice more activity when the Minnesota temperature drops, don't wait until you have a full invasion within your home. Give EcoTech a call today. Our team of professionals has a combined experience of over 50 years in pest control. We choose to use environmentally friendly extermination methods so that our clients do not have to worry about putting their family or pets in danger. When you call our team of professionals, we will come to meet you face to face. We will do a thorough examination of your problem, determine an action plan and inform you about everything we are doing before we do it. There are no hidden agendas or fees with our Minnesota pest control company. In fact, we go above and beyond by eliminating the pests, repairing the damage they may have caused and then preventing pests from entering into your space again. We are so confident in this that we back all of our services with a 30 day warranty.
If you are wondering why you have an insect problem during our Minnesota winter weather, stop wondering and call EcoTech today. Let us fix your problem. Give EcoTech a call today at (763) 785-1414.