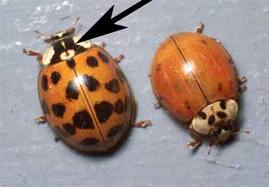 Are you finding a large number of ladybugs infiltrating your home? While ladybugs don't pose a grave danger to you, your pets or your family, they can be a mild annoyance, especially during times where large numbers are making their way into your home. At EcoTech, we offer high quality pest control to ensure you'll only see ladybugs outside your home! Ladybugs are actually extremely beneficial in your garden areas because they feed on aphids and other insects that feed on your prized plants. Not sure if you need to get rid of them? If they are bothering you  now…wait till next year!
Why Do Ladybugs Come into Homes in the Fall?
In the late summer and fall, ladybugs will leave the forest, yards, and fields looking for a warmer place to spend the winter. This is precisely why you see an influx in ladybugs indoors in the fall. While ladybugs may be pretty to look at, they're not something that you want to deal with inside your home.
How to Get Rid of Ladybugs Inside Your Home
Below are a few ways to either get rid of ladybugs that are already in your home, or to prevent them from infiltrating your home in the first place.
• Seal Gaps and Cracks – Ladybugs don't need very much space to enter your home. Take time to go around the entire perimeter of your home to seal up any gaps or cracks where these pests may be entering your home. Pay special attention to areas around doors, windows, siding and openings around pipes and conduit that may be coming into your home.
• Use Ladybug Traps – You can attempt to use ladybug traps and place them in dark places that may be attractive to ladybugs such as in attics. While these may be mildly effective, they likely won't completely eliminate a large infestation of ladybugs.
• Contact a Pest Control Company – If you're unable to handle the influx of ladybugs into your home on your own, it's likely best to call a pest control professional like EcoTech. We would be happy to come out to your home to provide an inspection to identify and rectify any areas where ladybugs are entering your home, as well as get rid of the ladybugs that have already made their way into your home.
Ladybug Exterminator St Paul
Ready to finally get rid of all the ladybugs that seem to keep popping up in your home? If so, feel free to reach out to EcoTech today by phone at 763-785-1414. We would be happy to come out to your home to provide a free pest control consultation. Remember, at EcoTech we'll never attempt to lock you in to any long term monthly contract.