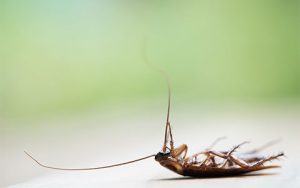 If you're tired of dealing with pest control in and around your home, you're likely thinking about making a call to a local extermination company. The problem though is that if you have pets, and/or kids, you are likely worried about the types of chemicals that will be used in and around your home. First off, it's great that you're taking extra precautions to ensure that you, your family and your pets aren't unknowingly exposed to harmful pest control chemicals. At EcoTech, we offer fully organic pest control services to ensure your pest control problem is taken care of, without causing you or your family any harm.
DIY Organic Pest Control Options
While we're always happy to provide our entirely organic pest control services, we thought it might be a good idea to offer a few recommendations that you may can try to see if you can get a handle on your own pest control problems before bringing in the big guns of EcoTech!
Lavender – While lavender has a nice floral scent, it can also be used to repel insects. Use a lavender scented pillow in with your clothing to repel insects or moths. You can also place some lavender oil near areas where you've noticed an infestation of insects.
Vinegar – Vinegar is another natural pest control option to help get rid of insects around your home. Ants in particular are not very fond of vinegar. Mix one part vinegar with one part water and spray any areas where you've seen ants entering your home.
Peppermint oil – Dust mites are notorious for getting into your mattress, carpet, rugs and pillows. Add a few drops of peppermint oil and spray down these areas to get rid of dust mites and make your home smell great at the same time!
Learn More About Organic Pest Control form EcoTech
If you're at your wit's end with your DIY organic pest control measures, don't fret. Our team at EcoTech has years of experience helping homeowners get rids of pests humanely and organically. We have a wide array of organic products that we've perfected over our several decades of serving our growing number of customers. To learn more about our organic pest control services, don't hesitate to reach out to us today by phone at 763-785-1414. We'll be happy to come out to your home and discuss your needs and show you the difference between our organic pest control program and some of our competitors.