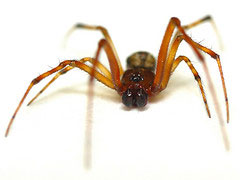 There are certain pests around the home that are scarier than others. Sure, we all know that ants can be annoying to deal with, but they don't cause the same level of fear as spiders do. It should come as no surprise that the Twin Cities area Minnesota has plenty of spider species. Some are harmful and others are not, but you probably don't want to spend your free time deciding which one's are ok to keep around the home. If you have noticed an uptick in spiders around your home, our team at EcoTech is proud to offer organic spider extermination applications that are extremely effective.
Utilizing Safe Products
There are plenty of companies around the Twin Cities offering spider extermination services, but a large majority of them utilize applications that may not be safe for other animals and children in your household. By choosing EcoTech as your preferred spider extermination company, you'll be able to rest easy at night knowing that we utilize natural, safe extermination applications. The application is not made of synthetic ingredients and therefore will not harm any other pets or children in your home. Ensuring that your home environment stays safe is a top priority for our spider removal professionals. Just because we utilize safe and organic products doesn't mean that it makes us less affordable. You will find our organic spider extermination applications to be very affordable.
4 Step Spider Extermination Process
Looking for extermination services that you won't have to call back again in a few months for another application? Well, our 4-step spider extermination process has been proven to be effective and will keep these spiders out for the long haul. The following steps are what makes our organic spider extermination application so effective:
● Contact our Staff – The most important step is for you to reach out to our team and take advantage of our spider extermination application.
● Spider Inspection – One of our specialists will arrive at your home to inspect every inch so that all spiders can be identified. From there, we'll develop an application plan that will effectively get rid of these spiders.
● Extermination Application – Our organic spider extermination application will be applied throughout the home to safely remove these spiders without harming anyone else.
● Preventative Measures – After the extermination is complete, we'll apply preventative measures to ensure that these spiders don't come back into the home anytime soon.
At EcoTech, we are eager to help you with your spider problems. If you are in the Twin Cities area of Minnesota and are interested in an organic spider extermination application, reach out to our staff today by calling (763) 785-1414.