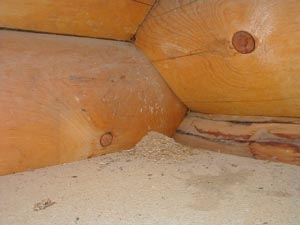 When your home has been playing host to insect or animal pests, there's a good chance that there will be some damage left behind by whatever pests invaded your home. Rather than forgetting about the damaged parts of your home, it's important to follow through with the pest control or animal removal process, seeing it through until the very end. That means not only ridding your home of present pests but also keeping your home safe from anything that may cause harm to pest damaged areas. At Eco Tech, we're more than a pest control and removal company; we're also here for all of your pest damage repair needs. If you're a homeowner with a pest-damaged-home in the Minneapolis, Minnesota area, call in Eco Tech, and we'll have your home looking good as new in no time.
Prevent Future Infestations with Pest Damage Repairs
Although it's tempting to leave damage unchecked and unrepaired, the likelihood that you'll be seeing some form of animal pest or insect pests again increases significantly when you leave them with an easy and convenient place to nest and live. Pest damage can be minor or severe, but it doesn't matter how little your home has been affected; there is always a chance that an animal that's left your home damaged will be followed shortly by another that will cause even more damage. Rather than opening your home up to pest infestations, make use of Eco Tech's pest damage repair services, and take the next step toward keeping pests out of your home for good.
Protect your Home from Weather Damage
In addition to protecting your home from future pest infestations, repairing pest damage in and around your home can help you protect your home from weather damage. In Minnesota, damage to your home's exterior can seem inevitable, especially when the hail and snow storms set in. Even when your home is perfectly stable and free of damage, storms can harm your home easily, so when you add pest damage to the mix, the chances of your home being damaged by a storm increase significantly. To prevent your already pest damaged home from taking on weather damage, be proactive, and make the necessary repairs before the next storm comes. That way, rather than fixing huge areas of damage, you'll only have to deal with the minor damage your home usually withstands during a storm.
Experienced Pest Damage Repair Company
If your home is in need of pest or animal damage repairs, don't wait to see if they get worse, and don't try to fix damage that you don't have the experience to properly mend. Instead, let our professional home damage repair team at Eco Tech take care of the damage. By calling us, you can ensure that your Minneapolis, MN home looks like new, free of any animal or pest damage. Call our 24-hour emergency service number, 763-232-7296, or schedule an appointment by calling any of our regular service numbers: 612-237-8282, 651-633-8600, 952-881-6662, or 763-785-1414.