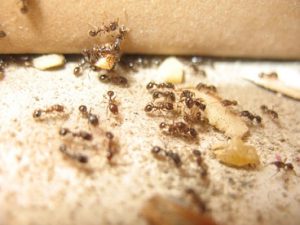 It is common knowledge that Minnesota deals with extreme dips in the temperatures in the winter months (dropping from a summer average of 75oF to a bone-chilling average of 12oF in the peak of winter). It's not only the humans that get cold and seek warmth during this season, but pests are also on the hunt for warmth. Unfortunately, that warmth is, more often than not, found in your homes and businesses. Following are a few of the most common pests that seek warmth, and you are likely to see inside your property:
Deer mice: While any type of rodent infestation on your property can be concerning, deer mice present a special danger to yourself and your family. Deer mice are known carriers of Hantavirus, which is a deadly and dangerous pathogen. To protect your loved ones against Hantavirus, be sure to schedule mouse removal at the first sign of an infestation.
Brown marmorated stink bug: This type of bug is more of a nuisance than harmful. These insects will only invade your space seeking warmth. They will not mate or nest inside your home or business, as their mating season is in the Spring (after they have retreated to the out of doors). The only issue with these bugs is the "stink" that they secrete when scared or smooshed. They can also leave a little stain on your paint where they secrete this "stink."
Asian beetles/ladybugs: The ladybugs are seeking warmth and a place to hibernate for the winter, though typically they are found spending their winters under the bark of a tree. When they make their way indoors, you might see them around windows or on ceilings. Do note that they do not pose any threat to people, pets, or the structure of your home. They also do not breed or multiply during the winter. They are simply a nuisance.
Boxelder bugs: They pose no threat to your home or your family; however, for the squeamish, it might not be ideal to knowingly let these bugs hang around inside your walls all winter. It is not uncommon for them to get confused on warm days and find their way into your living room, and you may find boxelder bugs on your windowsill basking in the sunshine. They can leave yellowish stains from their waste on curtains, furniture, windows, stored clothing, and pillows.
If you find yourself dealing with any of these nuisance pests and want to rid yourself of them, call the pest control professionals at EcoTech. We utilize all natural solutions that are harmless to you or your household pets. For an in home consultation or service, call (763) 784-1414 or contact us online.