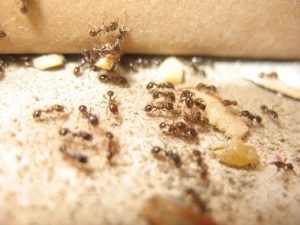 There are quite a few animal removal companies in Minnesota that offer professional ant removal services, but not many that offer these services without a contract required. If you are interested in safe and effective ant removal services at your residential or commercial property, but don't want to get locked into an unwanted contract agreement, then our team at EcoTech is the perfect partner for you.
Unless you request a contract with our integrated pest management service, then no contract will be needed. We are so confident in our highly effective and safe ant removal services that we don't need to require a contract in place to keep our clients around. Additionally, we don't make our clients pay for any extra services unless they are needed. When it comes to pricing, our prices are some of the cheapest in the industry, so there's no need to lock yourself into a contract with us, unless that is your preference.
Ant Removal Experts
For more than 15 years, our ant removal experts have been fighting and removing these pests from residential and commercial properties. During this time, we've mastered how to safely exterminate these ants from your property without harming anyone else along the way. We have the knowledge to pinpoint specific ant species, properly terminate their colony and locate any nest locations around your property.
Organic Ant Removal Services
The best part about choosing EcoTech for your ant removal needs is that we use organic ant removal products that are less toxic than the products used by many of our competitors. Our ant extermination products are not made of synthetic ingredients that pose harm to the environment, pets and children. Instead, only the ants are targeted during our ant removal applications.
Effective 4-Step Ant Removal Process
Utilizing our proven and effective 4-step ant removal process, you will be living ant-free in no time. The first step is for you to pick up the phone and give us a call. Next, we'll arrive at your property to perform a thorough ant inspection so that all ants and nests can be identified. Soon after the inspection, one of our ant removal specialists will arrive at your property to safely exterminate the ants. Lastly, we'll take necessary preventative measures to ensure that these ants don't return anytime soon.
If you are looking for a professional ant removal company in Minnesota that doesn't require a contract, EcoTech should be at the top of your list. Take advantage of our affordable pricing and organic products in the near future. To schedule an appointment, give us a call today at (763) 785-1414.