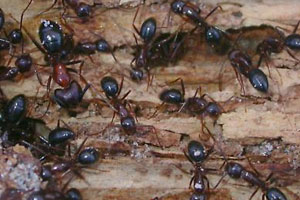 All jokes aside about Minnesota's weather being ten months of brutal winter with July and August fighting it out for the three other seasons, the truth is that the decreasing severity of winter weather wakes up pests who are hungry and in search of a warm place to reside and reproduce. And guess who tends to provide such accommodations? That's right—it's you. You may not intend to invite pests to join you in your home, but many pests see it that way. At this time of year, it is possible to see a trail of ants making their way from a tiny crevice around your front or back door toward the snacks in your pantry. EcoTech can not only deal with the thousands of ants that have invaded your home in search of food and shelter, we can also prevent them from ever gaining entry in the first place.
Remove Ants and Keep Them From Returning
Ants, for most people, are not the most offensive pests that can invade their homes. They do not generally cause panic or fear like roaches or stinging insects. However, ants cause homeowners to feel extremely frustrated. Ants are very persistent and can sneak in unnoticed and in just a matter of hours, you suddenly find hundreds (or thousands) of them marching inside. You might have tried to use ant spray or to get rid of them yourself before, and you might even have convinced yourself that you took care of the problem. If ants can get inside once, they will try again and again. The persistence of ants over the spring months can cause frustration for homeowners, especially when you find ants have gotten into your pet food or your favorite snack.
Safe Ant Removal Solutions
Unless all ant invaders are dealt with and their points of entry are sealed off, it is likely that their relatives will follow the path laid for them. And why would they not follow the path of their relatives, when the scent of snacks and the pull of climate control comfort that you have provided is so enticing? EcoTech has the knowledge and experience to ensure that the invasion of ants into your home is stopped at the source. Our method is far safer than the typical homeowner's response of spraying insecticides in the home too. Our methods are targeted and precise, and there is not an insecticide spray on the market that comes close. We can also use natural sprays and solutions that are safe for your children and your pets.
Call EcoTech at (612) 237-8282 and we will be happy to help you get rid of ants once and for all.