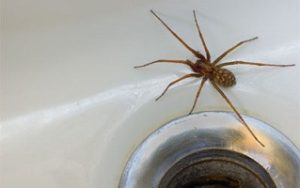 Spiders can be creepy to see within the household, but for the most part, spiders are beneficial to the ecosystem. In fact, they help control the population of other unwanted pests. During these cooler months, you will likely see the products of spiders more often – their webs. These can appear large and are certainly a nuisance to walk into. Most spider bites are minor in adults, though several species' bites can pose more harmful results to children. For this reason, if you see spiders in your home and are concerned, call in professional pest control technicians – such as EcoTech.
Spider Control In Interior Spaces
Controlling spiders inside the home can be difficult. Homes located near rivers and lakes (which is many homes, here in the land of 10,000 lakes), tend to have larger populations of spiders living around the property as insects are more prevalent. There are a few things that you can do yourself to help minimize spiders inside your home:
● Keep the house as clean as possible.
● Remove clutter and stacked boxes, papers, etc.
● Remove webs that form in corners and along walls and ceilings.
● Keep pest populations down within the home as this is what feeds spiders.
Spider Control On The Exterior Of Your Home
If you find it necessary to gain some control of the number of spiders around the exterior of your home, there are some simple things you can do:
● Move debris piles (such as wood) away from the house, as these are prime homes for spiders.
● Keep grass cut short.
● Keep bushes and shrubs from any direct contact with your home.
● Remove webs that form near rooflines and around windows.
● Seal cracks and gaps around the foundation of your home.
When It's Time To Call In The Professionals
When you have insects like spiders inside your home, there is no time like the present to get rid of them. The professionals at EcoTech understand this. EcoTech can respond to your pest control request within 24 hours and will use non-toxic methods to rid you of your infestation properly and safely. Our professionals are trained and qualified to rid you of your problem quickly and completely, the first time. Call the team at EcoTech at (763) 232-7296 for immediate response or contact us online today!