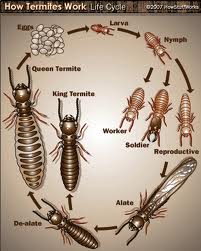 Springtime brings increased rainfall, the bloom of flowers and greenery – but also termite swarm season! As rainstorms begin in the Spring, termites seek shelter and food sources inside residential and commercial properties. EcoTech technicians are Certified Master Technicians certified by Minnesota Department of Agriculture to help you identify a potential infestation early and protect your property from major structural damage.
Signs Of A Termite Infestation
As spring approaches and temperatures begin to warm up again, we must remind ourselves to be on the lookout for termite swarms around our properties. Here are some ways to identify one:
● Catching Their Flight: Although these swarms usually only last 30 minutes or so, noticing tiny black insects with long, white wings taking flight around your property in early spring can be a sure sign that termites are attacking your residence or business.
● Searching for Wings: As termite infestations are rare, you might find their discarded wings scattered around your home, garden, or trapped in any spider webs. Keep an eye out for them!
● Damage: Though termites usually stay hidden, their presence can still be seen through sagging ceilings, peeling paint, and water-damaged floors.
● Mud Tubes: Subterranean termite infestations often feature mud tubes, which they use to travel from their nests to food sources. These tubes are small in diameter and typically found within your home's foundation or other dark corners.
Termite Infestation Prevention
It is essential to take measures to safeguard your property against termites. Here are a few steps homeowners can take:
● Inspect the exterior of your building for cracks, gaps, and damp wood.
● Move mulch away from the foundation of your home.
● Fix any plumbing leaks, particularly around structural wood, or the foundation.
● Keep wood piles off the ground and far away from the structure.
● Ensure crawl spaces and bathrooms have proper ventilation.
Eliminate And Prevent Termite Infestation
If you think there may be termite damage, act quickly and contact a pest control expert if needed. Methods like insecticides, borates, orange oil and over-the-counter sprays may reduce their numbers temporarily but won't eliminate all infestations completely. Ultimately, it is best to enlist the assistance of an expert such as EcoTech who are highly experienced in eliminating and preventing termites throughout the Twin Cities metro area of Minnesota. Find out more about our termite control solutions today by reaching out!