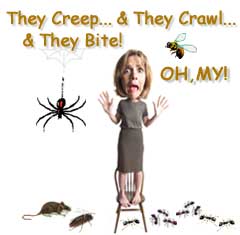 Are you currently experiencing a silverfish infestation? If you're not familiar with silverfish, they are a small wingless insect that resembles a fish with legs. These insects are a little peculiar to look at, but shouldn't worry you too much, assuming you know a reputable silverfish exterminator that you can call! At Eco Tech, we're well versed in handling all of the major types of pests, including silverfish. Give us a call anytime to setup a free consultation with one of our experienced exterminators.
Facts About Silverfish That You Should Know
Below are a few facts about silverfish that may explain some of their behavior in your home.
Silverfish are nocturnal – You'll typically see silverfish at night. That's because they're nocturnal and prefer the darkness. Many of our customers often see them when they head into the bathroom and flip on the light at night.
They like moist areas – Silverfish prefer moist areas, which is why you'll often find them in bathrooms, near drains and in damp laundry rooms or basements.
Silverfish like starches – If you've noticed holes in your clothing, you may think that you have a problem with moths, but in reality it could be a silverfish infestation. Silverfish don't eat other insects, instead they look for substances that are high in starches such as clothing, fabric, carpet, glue, photos, books, cardboard, wallpaper and other materials.
They are not venomous – While silverfish can be destructive, they're not venomous.
They're fast movers – Because silverfish have no fangs or venom, they have very little defense mechanisms aside from their speed. If these insects have a straight shot, they can be quite difficult to catch.
They can go without food or water for extended periods of time – Silverfish can go weeks without any type of food or water, which can make them difficult to get rid of. Once they do find food however, they'll often stay close by.
Ready to Say Goodbye to Silverfish Once and For All?
If you've had enough damage from silverfish, it may be time to finally call in a professional silverfish exterminator like Eco Tech. We have decades of experience taking care of all types of pest control in the area and would be happy to come out to your home to address any silverfish infestation problems you may be dealing with. Feel free to give us a call today at (763) 785-1414 if you'd like to learn more about any of our services.