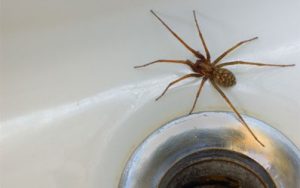 If you've spent one too many nights curled up in a ball afraid to walk around your house because you've seen a few spiders scurrying about, it may be time to finally call a spider exterminator like EcoTech. We have decades of experience helping homeowners in the St. Paul area with all their pest control needs, and we'd be happy to come out to your property to see what we can do to help. Spiders are not a insect that you want to ignor.
Spider Extermination Service St Paul
When you work with EcoTech to handle your spider problem, we'll provide you with the highest level of service to ensure that your problem is taken care of as quickly as possible. Our spider extermination services include:
• We thoroughly inspect the exterior of your home to identify the source of the spider infestation.
• We identify the most environmentally friendly pest control products that will help to prevent spiders from continuing to infiltrate your home.
• We create and provide you with a detailed plan that is created for you based on your exact property.
• We go around your home and remove any cobwebs or egg sacks that we see to discourage additional spiders.
• We also can provide an optional foundation spray, which will create a barrier around your foundation to prevent spiders from making their way into your home.
• We work to implement what's known as an Integrated Pest Management (IPM) approach to handling your spider problem. This process considers pest control strategies as well as education, including cleanliness, and altering the pest's natural habitat through the use of chemical applications when necessary.
Are Spiders Found in Minnesota Harmful?
If you see a number of spiders in your home, you likely are wondering whether they're harmful. The reality is that most spiders found in Minnesota are harmless. This doesn't make it any easier to see them scurrying across your living room floor though. The only spiders that are found in Minnesota that are harmful are the Black Widow and the Brown Recluse. It's a good idea to familiarize yourself with the looks of these two types of spiders so you'll recognize them if they do appear in or around your home.
Schedule a Pest Control Service Today
If you're tired of attempting to get rid of your spider problem on your own, it's likely time to call a St. Paul spider exterminator like EcoTech. We'll be more than happy to come out to your home to discuss your pest control needs. We'll work with you to develop a multi-pronged approach to ensure you can walk around your house barefoot again without worrying about whether you're going to step on any type of bug! Give us a call today at 763-785-1414 for more information about any of our pest control services.