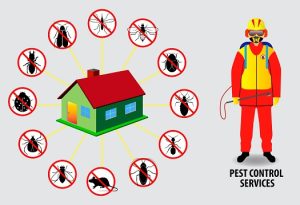 As the weather warms up, insects begin to become more active. They look for food, they try to find shelter and a place to reproduce. For many homeowners, summer is also the time where they notice that insects and other pests have made their way indoors. After all, your home has all of the things that these insects are looking for…food, shelter and a safe space. The pests do not mean any harm but can cause problems for you and your family. No one wants to share their living space with ants, roaches, lice, bees, wasps, or other insects. This summer, if you live in the Minneapolis area and find that you are seeing multiple pests in your home, reach out to the team at Eco Tech for summer pest control service.
Residential Extermination Services In Minneapolis
Eco Tech has been providing high quality pest control services for customers in Minneapolis and surrounding area for more than fifteen years. During that time, we have developed a philosophy that focuses on providing the best possible service to our customers. What does this mean? Here are a few things that help us stand out from other pest control companies in the area:
1. No contracts needed: We understand that you may not want to sign a long-term contract for pest control services, so we do not require them. This means that you do not end up getting service for your home that you do not need. We focus on providing the specific pest control services that meet your needs.
2. 24/7 emergency service: Pest problems do not just happen during normal business hours, so we make ourselves available 24/7. We also are open 7 days a week as well, so you can count on us to be available when you need us.
3. Organic and all natural pest control solutions: We value our environment and understand that you may have concerns about the pest control solutions that we use in your home. Our all-natural, organic solutions are safe for the environment and for your children and pets.
4. Professional and responsive: We value our customers and work hard to provide the best customer service in the area. Our staff is highly professional, honest, prompt and responsive. We have received an A+ rating by the Better Business Bureau.
If you have noticed insects or other pests in your home this summer, give the staff at Eco Tech a call today at (763) 785-1414 • (612) 237-8282 • (952) 881-6662 • (651) 260-7378.