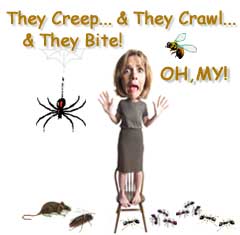 Are you a homeowner dealing with unwanted pests in and around your home? Have you been avoiding calling a pest extermination professional because you don't want to risk harming your other pets or children in the household? Our team at EcoTech has a solution for you that will ensure only the pests are the one's exterminated from your property. We specialize in targeted and safe pest extermination services around the Twin Cities of Minnesota.
Whether you've got thousands of ants, big spiders, bats in the attic or a possum that won't leave your property, EcoTech is here to help. Thanks to our organic pest control services, those family members and pets around the home are never harmed. We focus on just the insects, pests or animals that you are dealing with and make sure that they are removed from your property efficiently. With more than 28 years of pest extermination and animal removal experience, you can rest assured that this job will be handled right the first time around.
No Contract Required
Lots of extermination companies require their clients to sign a contract, which often leads to their clients paying for things they don't actually need. Our staff does not require any contracts, unless you request to be on a contract. We are proud to offer some of the best prices in the Twin Cities area. Our decades of success in the community is thanks to fair pricing and never making our clients pay for additional services that are not really needed.
Keep The Pests Away For Good
The goal is to get these pests away from your home for good, correct? Well, the truth is that there is more to the process than simply exterminating the pests. There are preventative measures that need to be taken as well. Our team can not only handle your pest extermination needs, but we can also repair any damage that may have occurred. Additionally, we specialize in the prevention of future pests from entering your home in the future. This extra step will help ensure that these pests don't infest your home again!
Looking for a way to get rid of the unwanted insects, bugs or animals around your home without putting your family or pets at risk? If you are in the Twin Cities, MN area, you are in luck thanks to our team at EcoTech. To learn more about our organic, safe and targeted pest extermination services, give us a call today at (763) 785-1414.