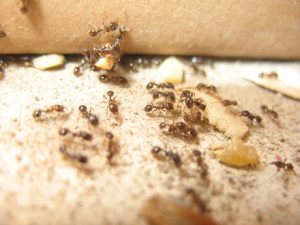 There is a great deal to admire about ants. They are tough, resilient, and many species are capable of constructing extremely impressive ant hills. But when ants make their way into your home or place of work, the chances are good that you are not thinking about how much you admire them. EcoTech is your very own Twin Cities ant exterminator.
How Ants Survive and Thrive
Like most living organisms, ants work to survive. Based on the number of ants we humans find in our living and work spaces, ants are not only surviving, they are thriving. And they often survive and thrive in spaces that they share with us. Why do they do this? The reasons are similar to ours when we find ourselves seeking food and shelter. Ants are attracted to your home first because it serves as a potential shelter from the harsh outdoors and their natural predators. You may be attracting them if you do a mediocre job of cleaning up after your meals. If you leave crumbs around the house, ants will march their way toward them. Ants can also be attracted to your house if you have water sources around your foundation and inside your living space. Ants, just as we humans, need food and water to survive.
In many ways, ants are marvels of evolution. They are tough and resilient, which is part of the reason it can be so difficult to remove them completely from your living and work spaces. For some homeowners and business owners, it can prove impossible to get rid of them on your own. EcoTech has the professional expertise that is needed in order to complete the job.
Getting Rid of Your Ant Problem in MN
Ant colonies can be enormous. They can number as many as a half-million ants in a single colony. You may be able to buy enough over-the-counter insecticide to kill a lot of them, but that creates other issues. The first is that you will have pumped your living or work space with potentially dangerous chemicals. EcoTech uses environmentally friendly insecticides, which cannot be bought in a normal store. The next issue you are likely to face is not being able to locate the source of the ants. You may be able to kill the ants you see, but there could be thousands more that you cannot see.
The team at EcoTech is trained to find the source of the ants causing you problems and get rid of all of them. As a trusted Twin Cities ant exterminator, we are trained to put an end to your ant problem. To schedule service, call us at (763) 785-1414.