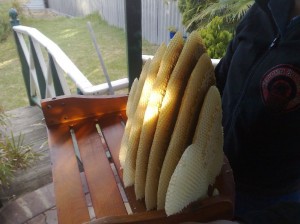 Wasps are insects that are generally known for their sting. In fact, many confuse wasps with bees, but wasps, unlike bees, can actually sting more than once without dying.  There are more than 30,000 different species of wasps and they actually do a lot of good for our environment.  One of their primary purposes is controlling the pest population by eating other bugs. Wasps build nests using from wood fibers scraped with their hard mandibles and chewed into a pulp.  Wasps can become a problem for property owners if they build nests on or around your home or business, where you, your family and other guests frequently pass.  Eco Tech, a Minnesota natural pest control service, is a professional, family-owned pest control business that serves homeowners and business owners in the St. Paul, MN area and can quickly and completely eliminate a wasp or bee problem from your home or business, once and for all.
Wasp Control Services, St. Paul MN
No one likes the thought of a wasp or bee sting. In addition to the pain, some of us are allergic, and a sting can cause health problems. Many wasps can reside in one nest and may come back to the same spot year after year.   If you find one or more wasps nests on your property, it is wise to seek the help of a professional pest control company for safe nest removal.  The team at Eco Tech has a combined 50 years in the pest control business and extensive experience removing wasp nests from properties in the St Paul area.
Natural Pest Control Service
The Eco Team is reliable, honest and is respectful of your time.  We respond to your need quickly and carefully, understanding that you want a pest control problem handled as soon as possible.  Eco Tech is known to offer some of the lowest prices in the area and does not require customer contracts.  This puts you in control of the services you need and also means that you will not pay for pest control that you do not need.  Our team uses solutions that are safe for the environment, children and pets, but work effectively on the pests.
Those without proper training and equipment should never handle wasps' nests.  If you find one or more wasps nests on your property, contact the team at Eco Tech today at (612) 237-8282 for assistance.  In addition to wasp removal services, our pest control team can also remove spiders, bees, lice, roaches, crickets and many other pests.