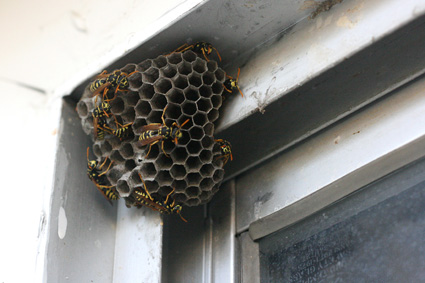 Wasp stings can be very painful for anyone who gets stung. If you are allergic to the sting of bees, wasp venom or hornets the situation can become dire very quickly. Reactions to wasp stings can vary from mild to life threatening. The presence of a wasp nest at your home or business should be dealt with quickly. Trained professionals with experience in wasp extermination and removal using nontoxic products are your best bet. Being able to correctly identify which varieties of wasps are on the premises can make a big difference. At EcoTech, our team understands and can identify the differences between a yellow jacket, baldfaced hornet, paper wasp and bees. This distinction is helpful for knowing how to get rid of the nest before someone gets stung.
Types of Wasps Found in Minnesota
Can you tell the difference between a honey bee, bumblebee, yellow jacket and a bald-faced hornet? The way that each stinging pest looks, eats and lives can give you clues on how to safely remove them from your property.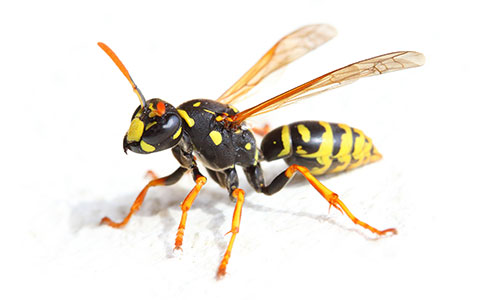 Yellow-jacket Wasps
Baldfaced Hornet (bald faced hornet or bald-faced hornet is actually a species of yellow jacket wasp)
Paper Wasps
Sand Wasps
Wasp Stings
Wasps can serve a beneficial purpose in our communities. They are pollinators like bees, but wasps are not as effective at doing their pollinating job. Usually wasps will not sting people unless they are provoked. The problem with wasps is that they can become aggressive and sting unprovoked. At the end of summer and into the fall when wasp colonies are the largest they may aggressively sting as a way to defend their nest. A wasp can sting you more than once since the stinger is not left behind in your skin.
A non-allergic reaction to a wasp sting is typically a burning or itching sensation along with redness and swelling.
An allergic reaction to wasp venom can be anything from hives, swelling, headache or respiratory symptoms to a life-threatening anaphylactic shock.
Professional Wasp Exterminators
Call to schedule an appointment with the team of professional wasp exterminators at Eco Tech if you have a wasp problem at your home or business. Wasps, including yellowjackets and bald-faced hornets can become aggressive this time of the year. Wasps live in colonies with as many as 5,000 living in a single nest. Our proven method for getting rid of wasps can be handled using nontoxic products that are safe for pets, people and the environment.
Contact EcoTech Pest Control Professional at one of the following numbers: (651) 260-7378 • (763) 785-1414 • (952) 881-6662 • (612) 237-8282