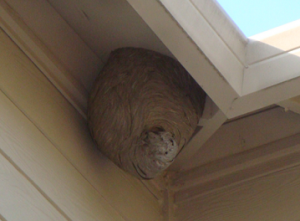 Wasps and bees come out in full force in the spring and summer months and if you are allergic or have a fear of them, they can make spending time outside stressful. Nests are often well hidden, and you or a family member can inadvertently disturb one and find yourself with multiple painful stings. If you have seen wasps or bees around your home or property, now is a great time to treat the area around your home so that you can enjoy the summer months. EcoTech offers professional and safe wasp and bee extermination services in Minnesota. Our team can rid your property of these flying insects as well as their nests.
Wasp Or Bee Nest Removal
Wasps and bees can nest anywhere. On your porch, in a tree, or even in a small crack in your home's siding. These nests are often hidden, but if you come into contact with them while gardening, doing yard work or playing with your kids, you can literally be swarmed and stung multiple times. This is painful and annoying even if you are not allergic, but if you or a loved one has an allergy, this can be dangerous. The team at EcoTech can find the wasp and bee nests on your property and get rid of them quickly so that you can enjoy your time outdoors without worrying about those pesky insects.
EcoTech uses treatments that are safe for people, pets and the environment. Our wasp and bee extermination services target only wasps and bees. Our nontoxic and organic products are highly effective while being safe and affordable. Our staff works 7 days a week, including evenings, weekends and holidays, because we realize that you can have a pest problem outside of normal business hours. In fact, we realize that more often than not, your pest problems will be noticed when you are home enjoying some down time.
Nontoxic Bee And Wasp Extermination
Our staff is trained, highly professional and can answer any questions you may have about the pests we find and the treatments we plan to use to eliminate them. We do not require contracts, so we will not be trying to sell you services that you do not need. We are honest, straightforward, affordable and dependable. This is what has helped us build such a strong reputation as a leader in pest control services in the Minnesota area. If you have noticed wasps or bees swarming around your home, call us today at (763) 785-1414.