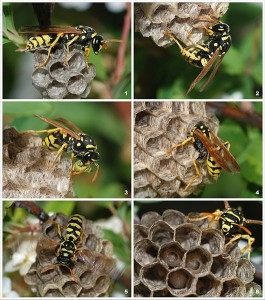 We tend to forget about bees and wasps in the winter time when the flowers aren't in bloom and the little worker bees aren't buzzing around, pollinating everything in sight. But as summer begins in Ham Lake, Minnesota, our attention is drawn, as always, back to the bees that bring us honey and beautiful flowers. Although bees serve an important purpose in our ecosystem, at Eco Tech, our Minnesota natural pest exterminators know that bees, and particularly wasps, can also be problematic houseguests for many homeowners. That's why we have wasp exterminators ready this time of year to help you rid your home of wasps.
Although wasps aren't inherently dangerous insects, they can leave excessively painful reminders of their presence when they sting those who get too close, and this makes them impossible to share space with. Whether you're someone who loves bees or can't stand them, pretty much everyone agrees that wasps in and around your home are always bad news. Unfortunately, they can be a rather tricky pest to deal with if you don't have experience in wasp extermination.
Eco Tech, which has been a successful insect, animal, and pest removal and extermination service for more than 15 years, employs a team of skilled exterminators who have 50 years of combined experience in pest control. This level of experience means that whatever your wasp problem, we're the exterminators to solve it. We know how to target wasps, how to safely and quickly kill and remove wasps' nests, and how to avoid nettling the wasps taking refuge on your porch. By trusting in our services, you can be sure that your involvement will be very limited, and you won't have to run the risk of anyone in your home being harmed by the wasps or by any pest control treatments we use for extermination.
Because we've been in the business of wasp extermination for so long, we know not only how to approach a wasps' nest without being harmed but also what types of treatments should be used to kill wasps. Although we offer traditional pest treatments that are chemical based and generally toxic to some degree, we can also utilize our own nontoxic, organic natural pest control treatments to ward off unwelcome wasps. These solutions are usually preferable for homeowners with children or pets, as these environmentally friendly treatments will not harm anyone who comes into contact with them. This ensures that if you have a wasp problem and can't wait until the weekend to stay away from home for hours to avoid harsh chemicals, you can stay in your house and let our treatments do their work without forcing you to relocate for the day.
If you're having a wasp problem or you've found a wasps' nest in your Ham Lake, Minnesota home, call Eco Tech, and see just how easy a process wasp extermination can be when you rely on the experts. For emergency help, call our 24-hour number, 763-232-7296, or if you can wait to schedule an appointment, call any of our regular service numbers: 612-237-8282, 651-633-8600, 952-881-6662, or 763-785-1414.