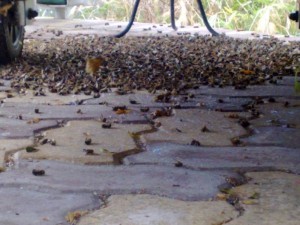 There are many varieties of wasps that inhabit Minnesota, and the ones that usually become pests are those that live in colonies. In wasp colonies, female wasps are dominant and perform all duties within the nest. Some wasps are predatory wasps and others are parasitic. Predatory wasps kill and consume other insects as well as other animals. Parasitic wasps lay their eggs in a host body, usually creatures like caterpillars and spiders. Wasps can assist in the management of other pests, particularly in agriculture as biological control agents. Many wasps also feed on nectar from flowers and therefore function as pollinators. Some species of wasps are aggressive and have the ability to sting multiple times when threatened unlike honeybees.
Later in the summer, the queen of some species produces eggs, these will develop into males, later the males will fertilize the wasps that will develop into queens the following year. These fertilized females will overwinter in a sheltered location. In most cases, the rest of the colony will perish when winter comes. The following spring, the queen will start laying eggs. The fertilized eggs that they produce will become workers, building the nest and feeding the larvae produced by the queen.
Wasp Infestation
Every fall, newly mated queen wasps will seek shelter in protective structures to build their nests. This can include the exterior or interior of your home. In the spring, the nest will grow and wasps can become a danger to humans.
The treatment and removal of wasps from a property requires the expertise of a pest control professional. Eco Tech strongly advises against attempting to remove wasp nests by do-it-yourself methods as this can be highly dangerous. At Eco Tech know exactly how to conquer pest problems, We are trained in handling wasps and we can rid your home or business quickly using our nontoxic organic product line. We also do treatments that will not harm other people, or the environment. We are proud to be an Anoka organic wasp control company, and will proudly treat your problem.
Whether you would like a one-time visit for ant control, or prefer we make regularly scheduled visits to your home or business, Eco Tech offers customized pest control programs in Anoka, Minnesota. Call us today at (763) 785-1414 to learn more about our organic products, our practices, and how we can help you eliminate wasps from your Anoka home.