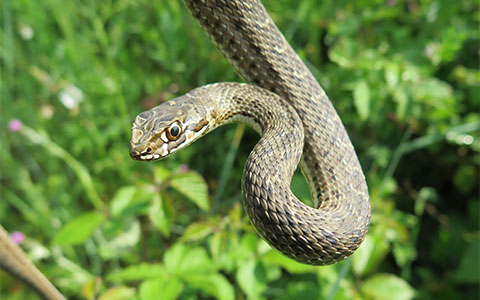 No matter how much you can tolerate or appreciate snakes in the wilderness, nothing compares to the genuine stress of having snakes in your own home. There are many things that can attract snakes into your house and while it's not common, we have even seen poisonous snakes somehow slither into the comfort of someone's home. At EcoTech, we are a Minnesota natural pest control service that can safely and efficiently remove snakes from your home without anyone getting harmed. As a local and family-owned pest control company with over 50 years of combined experience, we are confident that if there are snakes in your home, we can remove them and prevent them from returning.
What to Do When You See a Snake
So, if and when you find snakes in your home, it's important to take a couple of steps in protecting yourself, your family and your pets. First off, leave the snake alone. Snakes are not typically aggressive unless provoked or threatened. Rather than provoking the snake, try barricading it into one area. Secondly, know that most snakes in this area are not poisonous. While all snakes can bite, the only common poisonous snake in this area happens to be the Timber Rattlesnake. Once you see the snake and have safely removed pets and family out of the way, give EcoTech a call. As professional snake removers, we understand your fears and frustration and will make every effort to come out and meet you as quickly as possible.
EcoTech Snake Removal
Calling a professional is a must. We will walk you through any immediate steps that you may need to make and we will set up a convenient time for us to meet you at your home. Once our highly trained team members arrive, we will assess the problem, provide a reasonable and affordable quote, and then remove the snakes! Once the snake(s) are removed from the home, we will then take extra steps to repair any damage the snake may have caused and provide preventative measures to keep snakes from entering into your home again. We are so confident in our process and the competency of our professional team that we offer a 30 day warranty, guaranteeing that no snakes will enter into your home again.
Ready to learn more? If you have snakes in your home and you are searching for an affordable snake removal company, consider your local professionals at EcoTech. Available 24/7, including nights and weekends, give EcoTech a call today at (763) 785-1414.