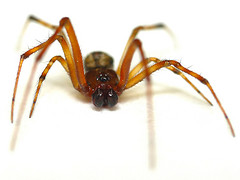 We all know how cold it gets in the Plymouth, MN area each winter. As humans, we can layer with sweaters, fleece, coats, hats and gloves when we head outside for work or errands. Have you ever wondered what happens to spiders and other insects during the frigid winter months? Spiders who live outdoors have to adapt to the cold temperatures in the winter as well. In fact, they produce what are known as antifreeze compounds that build up in their tissue. These antifreeze compounds allow a spider's body to actually lower the temperature at which it will freeze. This keeps them from literally freezing in the cold. Outside in the winter months, spiders can also find warmth between a layer of snow and the ground or find shelter in cracks in bark leaves.
Spider Extermination Services in Plymouth, MN
However, spiders who live inside your home or business, for example, do not produce the same antifreeze compounds and are not able to survive if you put them outside in the cold. The bottom line is that if you have a spider problem during the winter months, your best bet is to call the team at EcoTech for our professional extermination services. EcoTech specializes in year round services and can make sure to eliminate both spiders and any of their eggs as well as any other insects in your home. EcoTech never requires annual contracts and does not charge for services you do not need. We also offer both organic solutions or traditional solutions depending on your preferences and needs. We take great care to ensure that your family (including pets and children) are safe from the chemicals we use.
Experienced MN Exterminator
Our team understands that many of us are scared of spiders and do not want to share our homes with them. However, it is always important to remember that spiders perform a very important function in our ecosystem. Spiders actually kill countless insects in our homes, so if you are concerned because you see spiders in your home, you likely also have an insect problem as well. The winter months are a great time to get a residential pest issue under control and get your home ready for the spring months. Eco Tech has more than 15 years of experience in the pest control business and would be happy to work with you. Call the MN exterminators at EcoTech at (763) 785-1414 to schedule a time for us to come to your home this winter.