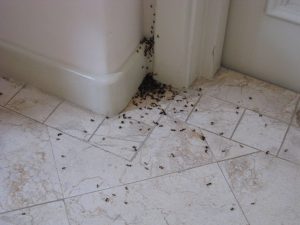 As the weather begins to cool around Minnesota, our phone lines have gotten an increase in inquiries due to ant problems. Ants in winter are a common occurrence, and it's something that can be handled safely and efficiently if you partner with a licensed and reputable pest control company like EcoTech. We've been a fixture in the Twin Cities area for decades and would be happy to come out to your home or business today to deal with your ant problem. We can be reached 24/7 at (763) 785-1414.
Ant Problems in The Winter
There's no doubt that winters get quite cold here in Minnesota. If you're finding ants in your home during the winter, you need to reach out to a pest control company immediately. Ants typically hibernate in the winter, and if you're still finding them in your home or business during this time of year, you know you have a problem. Ants indoors during the winter often means that these pests have created an entire ant colony that may be living in your walls. This type of ant infestation is not something that can be taken care of with a few ant traps from your local hardware store.
A large-scale winter ant infestation needs to be handled by a reputable pest control company that can suggest different treatment options depending on your needs and household members.
All-Natural Ant Removal or Traditional Ant Removal Methods
When we first work with any client, we talk to them about the different pest control methods we offer, including those for ants in winter. We offer an all-natural pest control program that's completely safe for animals and kids but may not be as effective as our more traditional options. If you're interested in completely all-natural products, we can review your options and show you the positives and negatives of these pest control methods.
It's essential to remember that if you have a significant ant infestation, all-natural products may not work for the initial treatment. It may be necessary to use more traditional ant removal methods for the first few treatments and focus on all-natural options for future treatments.
Reach Out to EcoTech Today for a Free Consultation
If you're looking for a partner to help keep ants and other pests away from your home or business, don't hesitate to contact EcoTech today. Call us at (763) 785-1414, and we'll be happy to set a time for one of our technicians to visit your property to discuss your needs further.