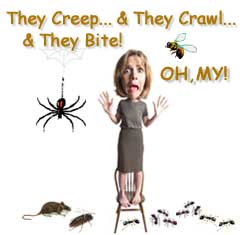 Pest control isn't something you should only seek when you suddenly find pests roaming your home. Unfortunately, this is exactly where most homeowners go wrong. They don't worry about pest control until the problem arises. If you don't detect an infestation in its early stages, your property and pocket are likely to take a heavy blow. The pest control professionals at EcoTech Insect and Pest Control know the importance of year-round pest control in always keeping your home safe from invaders
Pest infestation is one of every homeowner's worst nightmare. Pests not only damage your property but also present a serious health hazard to all occupants. Rodents, for example, carry a whole host of diseases that they can easily spread to people and pets alike. Similarly, cockroach infestations often lead to respiratory and skin issues as their feces and cast skin can contaminate indoor air. Termites cause heavy (and usually hidden) structural damage, whereas dust mites can trigger an allergic reaction, especially for people with known breathing problems like asthma. Moths are notorious for eating through fabrics and upholstery, and bedbugs will literally make you sleepless at night. If you don't want to fall victim to any of these problems, preventive, year-round pest control plans are a must.
Stress-Free Protection
Hiring a professional pest control company like EcoTech ensures complete peace of mind. Our expertly trained and licensed service professionals know the right pesticides for every room, nook, and cranny in your house. Additionally, they use sealants and other special supplies to close all possible entryways and keep these tiny invaders out. EcoTech also uses environmentally friendly and cutting-edge products in the smallest quantities that are still effective in eliminating issues.
Economical Pest Control Solution
Routine pest control plans are always more affordable than emergency pest control treatments. This makes sense if you think about the overall costs and pest control methods associated with an infestation. Preventive treatment saves resources in every way. Although pest control maintenance services involve a greater number of visits by pest exterminators, it is not very time-consuming. And it is unlikely to cause any interruption in your daily activities either.
No Contract Pest Control Services In Minnesota
If you are non-committal but looking for pest extermination services in Minnesota, we may just be the perfect pest removal insect extermination company for you. Don't waste another moment longing for a pest-free home. Put an end to all your pest issues today and give us a call. For more information on our no contract, pest extermination services in Minnesota, give EcoTech a call today at (763) 784-1414 or easily schedule an appointment online.