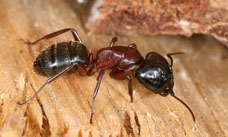 Looking for an extermination professional to rid your home or business of ants? If so, you should know that that (and a long list of other related services) is exactly what we do here at Eco Tech. As an insect, pest, and animal extermination and removal service, ants are our business, and when they've made themselves your business, too, then it's time to make a change. Our team services the Twin Cities, so if you're in the Minneapolis, Minnesota area and in need of an ant exterminator, we're the professionals to call.
Ant Extermination Minneapolis
With more than 15 years of extermination experience in the Minneapolis area and over 50 years of combined experience among our professional exterminators, you can count on Eco Tech being an ant extermination company you can trust to get the job done and do it right the first time. Whether ants have invaded your home or your business, it's a messy job to try to take care of them yourself, and it can seem impossible to get rid of them completely.
If you've had ants encroaching on your property for a while, you've probably tired every known solution to no avail. We know how tricky and resilient ants can be, and because of their size and ability to hide in pretty much any crack and crevasse, they're one of the most difficult insects to find and eliminate. However, when you call an exterminator, locating ants' nests is a first priority, a necessary step on the way to ridding your home or business of the insects for good.
Professional Ant Exterminators
With our level of experience, we've learned where to look for ants and even how to tell ants apart so that we're better able to meet your needs. By understanding ants' living habits and the differences between ant species, we've adopted methods of dealing with different types of ants, using specific treatments to combat particular ants and ants' nests. When you call Eco Tech, you can be sure that we're professional ant exterminators who want to help get you your home or business back in as short a time as possible. To make sure you know that you're getting the best price without any hidden costs throughout the extermination process, we offer our services with no long-term contracts required so that you aren't forced to stick with our services. Our only insurance policy to keep your business is our efficient and effective extermination work.
Organic or Traditional Ant Treatments
When you choose Eco Tech, you also have the advantage of choosing the bug exterminator products we use. Offering both organic and traditional treatments, our services include the use of whichever products you prefer. We believe in using environmentally friendly products, so we've created our own natural insect control treatments that are less toxic to children, pets, and the environment than the name brand products usually used, and these are always available for use if you'd prefer the less toxic, more eco-friendly option.
If your home or business is crawling with ants already this summer, don't wait to act or keep trying solutions over and over that just don't work. Most likely, you'll need a professional exterminator company to help you get rid of the pesky ants for good, and Eco Tech is the best extermination service to help in the Minneapolis, Minnesota, Twin City area. With our own natural treatments and expertise in locating and exterminating varied species of ants, you can count on us to rid your property of ants. Call us to schedule an appointment at any of our numbers: 612-237-8282, 651-633-8600, 952-881-6662, 763-785-1414, or if you have an emergency, call 763-232-7296 for 24-hour service.