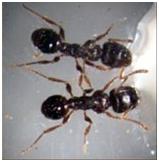 Most people aren't scared of ants because they don't pose much harm to humans. They are however, very annoying pests that can quickly take over your home. If you see one ant crawling across one of the rooms in your home, chances are that plenty more have invaded your property. Rather than going to the local home improvement shop in Coon Rapids, Anoka or Blaine, MN and investing in ant-away spray that may not be chemically safe for your home, consider partnering with Eco Tech. Our experienced team provides all natural, organic pest control services that will focus solely on the ants that you are trying to get rid of.
Safe Environment
Do you have young children that often crawl across the floor where the ants have invaded? Do you have pets that live indoors? Either way, most of the ant extermination products on the market are not safe for humans or pets to come into direct contact with. This poses a big problem for families with pets or small children. Rather than having to even think about whether or not this could negatively impact your family, leave the ant removal process up to Eco Tech. Our ant control applications will not pose any harm in regards to your pets or children. Only the ants will be affected by our organic applications, leaving your home as a safe environment.
Quick Extermination Services
At Eco Tech, we have more than 15 years of experience in Coon Rapids, Anoka & Blaine, MN dealing with unwanted pests such as ants. Over this timeframe, we have mastered the extermination process so that the work can be done in a timely manner and so that the application can be effective the first time around. Timing is critical when dealing with ants. Ant colonies can grow up to 300,000-500,000. The last thing that you want is for this many ants to invade your home. Ants can enter your property in the smallest cracks or holes. The minute you notice a few ants in your home, pick up the phone and call Eco Tech so that we can get you on the schedule and quickly apply our all natural extermination application. There are different ant species in the area, requiring different treatment applications. We know how to identify the species quickly so that these ants don't have a chance to multiply.
If you have noticed an influx of ants in your Coon Rapids, Anoka or Blaine, MN home, it is time to call the professionals. As an ant exterminator near you, our team at Eco Tech will arrive to your home quickly and will apply our all natural, organic extermination application, which will not harm your children or pets. To set up an appointment, give us a call today at (763) 785-1414.